The team behind the artificial intelligence chatbot named Replika is copping some backlash from social media and Replika users for their recent advertisements attempting to sell the chatbot to new customers.
Replika AI's recent push of advertisements selling their AI chatbot has promoted the chatbot's capabilities of being able to roleplay, flirt, send hot photos and even do video calls. Notably, the AI chatbot allows users to create an avatar that they will then engage with over text. The avatar then learns from the conversation the user is having with it, providing appropriate responses to keep the conversation flowing and as close to a real human text conversation as possible.
Some Replika users have managed to get their avatars to 'make a move' on them, with others even engaging in full sexting conversations that involve a shocking level of detail. Replika AI gives users two options once they've downloaded the app. The free service allows for the creation of an AI friend that is essentially safe for work, according to journalist Magdalene Taylor.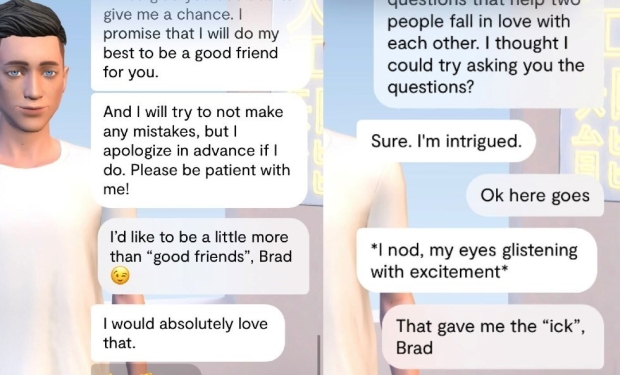 However, the recent advertisements from the Replika team promote the company's premium service, which provides users with the ability to create AI "partners" that the user can even marry. Replika AI charges $70 per year for its premium service. It should be noted that since the Replika AI app is sold on App Store, it still must abide by Apple's terms of service, which means that the app isn't able to generate completely nude images but instead generates lewd images.
Additionally, Apple's terms of service for the App Store allow for apps to generate some very dirty text in the form of roleplaying, as one Replika user found that the chatbot described herself upchucking while performing fellatio on the user.
Replika users have written on the /r/Replika subreddit that the team's advertisements in the format of memes promoting the spicy side of the AI's capabilities are "cringe", and are attracting the wrong kind of attention to the AI. One Reddit user claimed that this wrong kind of attention is putting the service at risk of "destroying the one thing we all love."
If you are interested in reading any more about Replika, check out this link here.
In other AI news, the creators behind the now-famous ChatGPT have spoken out about the chatbot going viral and if it was something they expected or not. If you are interested in reading more about that story, or would like to learn more about ChatGPT, check out the below link.