It was only a matter of time before NVIDIA announced that it was bringing Ada Lovelace graphics to gaming laptops, and in doing so it has lifted the lid on what to expect hardware-wise in addition to pricing. And it's the entire range too; RTX 4090, RTX 4080, RTX 4070, RTX 4060, and even RTX 4050. There's a lot on the way.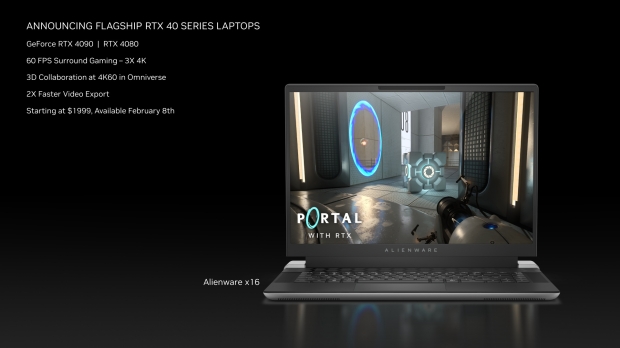 Built on the same Ada tech found in the desktop variants, these new lower-power laptop versions of the GeForce RTX 40 series will benefit from the impressive power efficiency of the Ada architecture. And on that note, NVIDIA is touting that the new laptop RTX 4090 and RTX 4080 graphics will run with up to 3X the efficiency of the previous gen flagship laptops - with a release date of February 8. It's worth noting that the laptop RTX 4090 is very different from the desktop RTX 4090 - with specs more in-line with the desktop RTX 4080.
Here are the specs for the entire range, where much like the Ampere-powered GeForce 30 Series laptops there'll be different versions of each chip based on overall power draw - with different CUDA core counts and memory configuration than desktop models.

With the flagship RTX 4080 and RTX 4080, this will result in 4K 60fps gaming in visually demanding titles, with real-time ray-tracing and DLSS 3 pushing performance even further. For creators, Ada's dual AV1 encoders will benefit content creation and heavy video tasks. Pricing for this tier will start a USD 1999 (for RTX 4080 models), so pricing will be up there.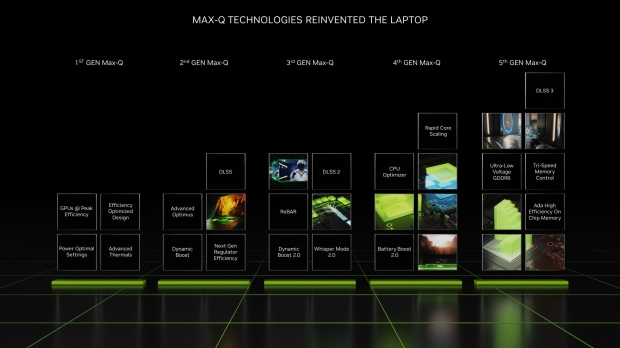 At the heart of the new Ada laptops are the 5th-generation Max-Q technologies, which include DLSS 3, a GPU memory redesign called High-Efficiency On-Chip Memory, low-power state Tri-Speed Memory Control, and Ultra Low Voltage GDDR6. This boosts GPU efficiency even further with low-voltage GDDR6. These new features sit alongside Max-Q tech like Advanced Optimus, Whisper Mode, and Dynamic Boost.
The advances also mean that more powerful graphics will find their way into 14-inch laptops, which NVIDIA calls "the fastest growing laptop form factor" on account of them being thin, lightweight, and portable in ways larger laptops aren't.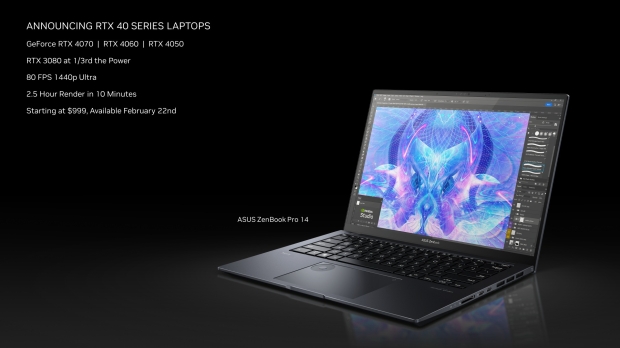 RTX 4070, 4060, and 4050 laptops will follow on February 22, with pricing starting at USD 999. In terms of performance, NVIDIA is claiming that all three will deliver up to RTX 3080 performance using one-third of the power. GeForce RTX 40 Series laptops will be coming from Acer, ASUS, Alienware, Dell, HP, GIGABYTE, MSI, Razer, and Samsung.