This massive 'next-gen' 3D printer was just used to build a house
The Vulcan II is ICON's massive next-gen 3D construction printer, using lavacrete to print structures up to 3,000 square feet.
Published Apr 5, 2022 4:01 AM CDT
|
Updated Wed, Jul 27 2022 3:53 AM CDT
1 minute & 14 seconds read time
The project has been unveiled by ICON, a 3D printing construction company based out of Texas.
Named House Zero, the 3D-printed home is located in Austin, Texas, covering over 2,000 square feet. It has three bedrooms, two and a half bathrooms, and an attached dwelling with an additional bedroom and bath. To build the house's walls, ICON used its proprietary cementitious-based material, "Lavacrete," with steel to reinforce the structure and insulation.
"House Zero is ground zero for the emergence of entirely new design languages and architectural vernaculars that will use robotic construction to deliver the things we need most from our housing: comfort, beauty, dignity, sustainability, attainability, and hope," said Jason Ballard, co-founder and CEO of ICON.
The Lavacrete is laid to produce the walls by Vulcan II, a large-scale 3D printer that is 1.5 times larger and two times faster than its predecessor. It can print homes and structures up to 3,000 square feet and "can produce resilient, single-story homes faster than conventional methods and with less waste and more design freedom." It weighs over 9500 lbs (4309 kilograms) and is 46.5 feet (14.2 meters) wide and 15.5 feet (4.7 meters) tall. It can print material up to 10.5 feet (3.2 meters) high, 36.5 feet (11.1 meters) wide, and infinitely long.
"Houses like this are only possible with 3D printing, and this is the new standard of what 3D printing can mean for the world. My hope is that this home will provoke architects, developers, builders, and homeowners to dream alongside ICON about the exciting and hopeful future that robotic construction, and specifically 3D printing, makes possible. The housing of our future must be different from the housing we have known," Ballard continued.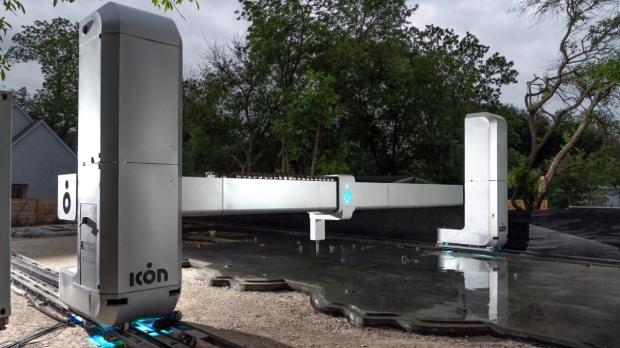 Related Tags