Destiny 2's Witch Queen is a huge success and it's not even out yet
Destiny 2's new The Witch Queen expansion is already a thunderous success and it hasn't even released yet, pre-orders skyrocket.

Published Tue, Feb 1 2022 3:41 PM CST
|
Updated Mon, Feb 28 2022 11:22 AM CST
Destiny 2's new The Witch Queen expansion might become the most popular post-release DLC in the game's history.
The Witch Queen is already a massive success with over 1 million pre-orders so far, Bungie has announced. A quick bit of math shows Bungie has made at least $40 million from Witch Queen pre-orders so far, assuming every single purchase was the standard $39.99 edition. The mix is likely a lot higher as gamers opt for the more expensive deluxe edition ($79.99) and the 30th anniversary edition ($99.99).
"Thank you to the more than ONE MILLION Destiny players who have pre-ordered Destiny 2: The Witch Queen. With your incredible support, it's on track to be the most pre-ordered expansion in Destiny 2 history," Bungie said.
Read Also: Destiny 2's The Witch Queen expansion is the beginning of the end
This kind of popularity is a big reason why Sony plans to acquire Bungie for $3.6 billion and use the Destiny creator to help trailblaze a new frontier for cross-platform live service gaming.
Destiny 2: The Witch Queen releases February 22, 2022 on PS4, Xbox One, PC, PS5, Xbox Series X/S, and Google Stadia.
The Definitive Destiny Campaign - Delve into Savathun's Throne World to uncover the mystery of how she and her Lucent Hive stole the Light. Learn the secrets to crafting new weapons, the new Glaive, and survive the truth within her web of lies.

New Destination - A twisted wonderland of corruption and splendor, Savathun's Throne World plays host to a fragile balance of power. From her palace to the swamp, all that she hides can be found here.

Weapon Crafting - Create custom weaponry with unique mod, shader, and stat combinations. Master the new Glaive weapon type and unleash powerful melee combos, projectile attacks, and a deployable energy shield.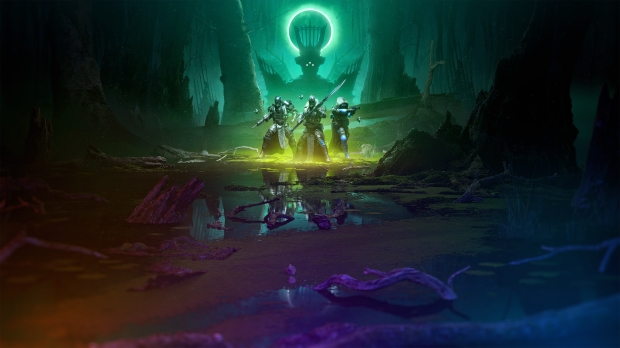 Related Tags