More new Intel graphics features
Now, next year and beyond.
Published Tue, Oct 16 2007 12:04 PM CDT
|
Updated Tue, Nov 3 2020 12:38 PM CST
Intel's upcoming graphics drivers which should be out in the not to distant future will add hardware vertex processing to the G965, GM965 and G35 chipset, but not for all games. Apparently, Intel has found after rigorous testing that some games benefit from having software vertex processing, such as you can see from the picture below which shows F.E.A.R. running with software vertex processing on the left and hardware vertex processing on the right.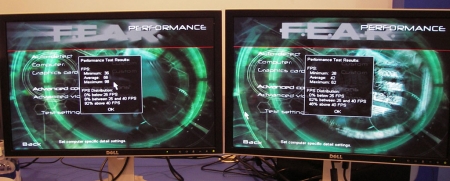 Click to enlarge
As you can clearly see, the system with software vertex processing has a fairly large advantage over the one with hardware vertex processing, some 14fps on average. But don't run out and get a motherboard with Intel integrated graphics as yet, as what the picture doesn't tell you is that these results are at 800x600. You should still get playable frame rates at 1,024x768 but that's about it.
Intel is working on a new graphics core as we mentioned yesterday and although the first generation of this will appear as a chipset some time next year, which will feature integrated HD video decoding as well as built in support for HDMI, Display Port and DVI, the big news will come in 2009.
With the Nahelem core, Intel will integrate not only the memory controller into its CPU's, but also graphics. By 2010 Intel wants to have increased its integrated graphics performance tenfold. This should allow for some pretty decent integrated graphics, but Intel isn't intending to compete with discrete cards with this solution.
However, we will be seeing discrete graphics solutions from Intel some time in 2009 and from what we heard, it will be a top to bottom range of cards. It's anyone's guess how well these solutions will compete with AMD and Nvidia's solutions at that time, but it will be nice to have another graphics chip manufacturer back in the game.
Before then, you can expect to see DX10 drivers for the G3x chipsets some time around the end of Q1 or the beginning of Q2. It looks as if Intel's programmable graphics engine is a lot more capable than expected.