Think you're good at Doom Eternal? Prove it with the new horde mode
Rip, tear, and annihilate wave after weave of demons in Doom Eternal's new horde mode, coming October 26 with new Update 6.66.

Published Thu, Oct 21 2021 11:36 AM CDT
|
Updated Wed, Nov 17 2021 4:03 AM CST
Doom Eternal's anticipated horde mode is coming October 26 in Update 6.66, id Software today announced.
Horde mode was something that I always wanted in Doom Eternal. Every since I started messing around with cheats I kept trying to figure out a way to get enemies to spawn in certain locations--I wanted to take on three or four marauders at once and just see how insane the battles could get. Wide-scale demon wars that are so demanding that they crash the game. Stuff like that.
Thankfully the official horde mode is coming out soon. It looks to be a survival-fest that gets harder over time, where you face off against waves of demon monstrosities in a scored and ranked playlist. It's an arcade game from hell--the best kind of arcade game. Update 6.66 will also include Battlemode's 2.0 revamp, two new master levels, and Bethesda says "there's certainly a surprise or two in there."
Senior Community Manager Joshua Boyle and Game Director Hugo Martin will show off horde mode live today at 7:30PM EST on Twitch and YouTube.
Read Also: Doom Eternal Review: Hellrazer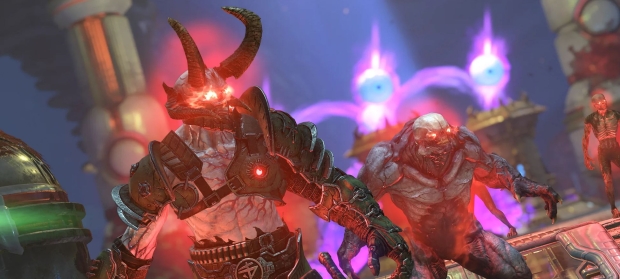 Related Tags