NVIDIA on GeForce Now database leak: Games used for internal testing
NVIDIA comments on a database leak that exposed unannounced games, says the list was used for 'internal testing and tracking'

Published Tue, Sep 14 2021 8:35 AM CDT
|
Updated Fri, Oct 8 2021 11:55 PM CDT
NVIDIA has released an official comment on the GeForce Now database leak that listed tons of games like Titanfall 3, Injustice 3, Final Fantasy 9 Remake and Crysis 4.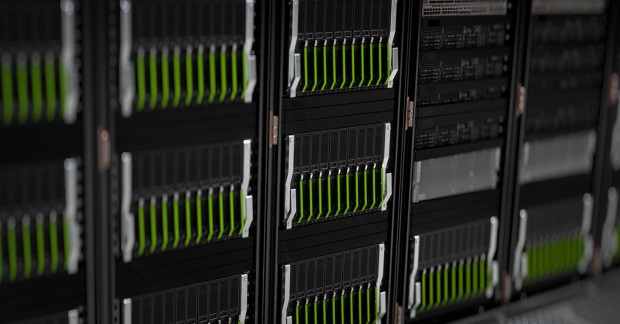 A bit ago diligent coder Ighor July found a backdoor into the full catalog of GeForce Now games, including listings to thousands of titles that aren't available to consumers yet. Yesterday he posted up a proxy server with access to the full catalog, and Steam DB creator Pavel Djundik created a huge .csv with over 5,000 unannounced games and apps including unrevealed games from some of gaming's biggest publishers--from Treyarch's next shooter to Tekken 8, Resident Evil 4 Remake, Street Fighter 6, and new Metal Gear Solid HD games.
Now NVIDIA has delivered an official comment on the database leak. The company says that the list speculative and not indicative of game that's currently in development or announced, and that developers used GeForce Now for internal and remote testing of their PC games. Several of the games listed on the leak are actually in development for PC, including Redfall, the new Indiana Jones game from MachineGames, and The Elder Scrolls VI, to name a few.
"NVIDIA is aware of an unauthorized published game list, with both released and/or speculative titles, used only for internal tracking and testing. Inclusion on the list is neither confirmation nor an announcement of any game,"NVIDIA told WCCFtech.
"NVIDIA took immediate action to remove access to the list. No confidential game builds or personal information were exposed."
Below we've cataloged some of the more interesting titles listed on the database:
T9 - Treyarch

Call of Duty: Infinity Ward 8 - Infinity Ward

Project Fenway - Vicarious Visions

Iris - Activision Blizzard

Project Cortez - Infinity Ward

Tekken 8 - Bandai Namco

Codename Omen - Arkane Studios Austin

Codename Blacksky - Bethesda Softworks

Kestrel - Zenimax Online

Hibiki - Tango Gameworks

Platinum (Indiana Jones) - MachineGames

Relic - MachineGames

Resident Evil 4 Remake - Capcom

Street Fighter 6 - Capcom

Goat Simulator 2 - Coffee Stain Studios

Goat Simulator MMO - Coffee Stain Studios

Crysis 4 - Crytek

Dead Island Serenity - Dambuster Studios

Dead Island 2 - Dambuster Studios

Codename Legacy - Monolith

Mortal Kombat XII - NetherRealm

Injustice 3: Gods Will Fall - NetherRealm

Metro Next - 4A Games

Metal Gear Solid 2 HD - Konami

Metal Gear Solid 3 Snake Eater HD - Konami

Project Gustav - Larian Studios

Demon's Souls - SIE WWS Japan Studios

Deracine - From Software

God of War - SIE WWS Santa Monica

Ghost of Tsushima - Sucker Punch Productions

Horizon Forbidden West - Guerrilla Games

Returnal - Climax Studios

Helldivers 2 - Arrowhead Games

Bayonetta HD Re-master - Platinum Games

Project Eve - Shift Up

Unannounced title by Square Enix - Eidos Montreal

ActRaiser Remake - Square Enix

Chrono Cross Remaster - Square Enix

Final Fantasy VII Remake - Square Enix

Final Fantasy IX Remake - Square Enix

Final Fantasy Legends: The Space-Time Crystal - Square Enix

Final Fantasy Tactics Remaster - Square Enix

Kingdom Hearts IV - Square Enix

Dragon Age 4 - BioWare

Untitled Respawn Game = Respawn Entertainment

Half-Life 2 Remastered - Valve

Batman: Arkham Insurgency (Gotham Knights - WB Montreal

Suicide Squad (Metallica) - WB Montreal

Grand Theft Auto 3 - Remastered - Rockstar Games

Grand Theft Auto San Andreas Remastered - Rockstar Games

Grand Theft Auto: Vice City Remastered - Rockstar Games

Gears 6 - The Coalition

Halo 5 Guardians - 343 Industries

BioShock 2022 - 2K Games

Morrison (Dragon Age) - BioWare Corp.

Gravity - Turn10 Studios

Project Typhoon (Contraband) - Avalanche Studios

Oxide - Oxide/Microsoft Game Studios

Project Holland (Next-gen Fable) - Playground Games

Project Woodstock - Playground Games

Project H2 (Senua's Saga) - Ninja Theory

Project FPS - Paradox Interactive

Project Renegade - Paradox Interactive

Project QD Next - Quantic Dream

Project Wind - Rebellion
Related Tags