An old Unidentified Flying Object (UFO) report from Australia is causing a stir online. Many Redditors are using it to compare against the recently released Pentagon report on UFOs that was widely considered online as "lacking" information.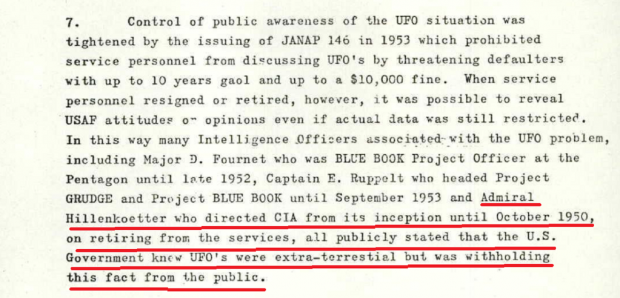 The UFO report from Australia can be found on the National Archives of Australia website and is titled "Scientific Intelligence - General - Unidentified Flying Objects". The report is free to view publicly, and its contents range between 1957 - 1971.
One section of the report on page 11 under the "U.S. Official Attitude To U.F.O.'s", it's stated that Roscoe H. Hillenkoetter, the first director of the Central Intelligence Agency that was created by the National Security Act of 1947 publicly stated that the US government knew the UFO were extra-terrestrial beings but were withholding the information from the public. Full quote can be found below.
Control of public awareness of the U.F.O. situation was tightened by the issuing of JANAP 146 in 1953 which prohibited service personnel from discussing U.F.O.'s by threatening defaulters with up to 10 years gaol and up to a $10,000 fine. When service personnel resigned or retired, however, it was possible to reveal USAF attitudes or opinions even if actual data was still restricted.
In this way many Intelligence Officers associated with the U.F.O. problem, including Major D. Fournet who was BLUE BOOK Project Officer at the Pentagon until late 1952, Captain E. Ruppelt who headed Project GRUDGE and Project BLUE BOOK until September 1953 and Admiral Hillenkoetter who directed C.I.A. from its inception until October 1950, on retiring from the services, all publicly stated that the U.S. Government knew U.F.O.'s were extra-terrestrial but was withholding this fact from the public.
For more information on this story, check out this link here.