Luminous Productions, the team behind Final Fantasy XV, wants to push the PS5 to its limits with its new game Forspoken. The team has lofty aspirations and is using AMD's new FidelityFX Super Resolution tech to make it happen.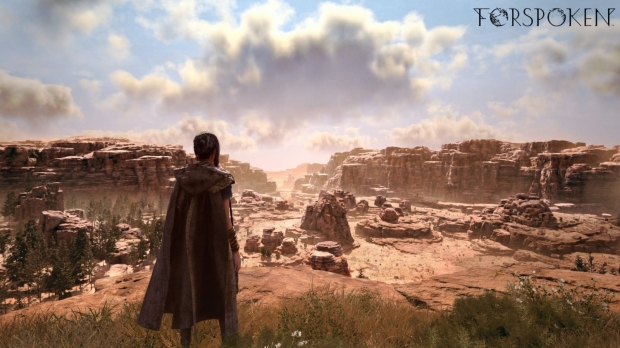 In a recent tech showcase, Luminous Productions boss Takeshi Aramaki discussed the studio's ambitions with Forspoken. The game will run at high spec on the PS5, aiming for 4K resolution at higher frame rates (probably 4K 60FPS) using the potent Luminous Engine, which was so powerful that it far outstripped the PS4/Xbox One's capabilities in FF15.
Now console tech is able to keep up, but the devs are still using tricks like dynamic resolution in order to hit consistently high frame rates.
Arameki goes over what it was like working with AMD's FidelityFX Super Resolution tech (very simple to implement) and how it will help Luminous make the best-looking open world game in the industry.
"Our studio's vision is to create games unlike anything experience before, fusing the world's latest technologies with art.

"Implementing cutting-edge AMD technology in the development of Forspoken is an embodiment of that philosophy. With Forspoken, we are aiming to achieve the highest quality visuals ever seen in an open-world game.

"High frame rates at 4K is important for providing the best possible experience when playing Forspoken, but very precise optimization is required to achieve this.

"AMD FidelityFX Super Resolution provides a significant performance boost when running Forspoken at 4K 60FPS.

"FSR is an ideal upscaling solution due to its compatibility with various platforms and its extremely fast processing speeds. For the development of Forspoken, we are really feeling the benefits of the low latency of FSR and the high performance that it brings. FSR implementation only took one day. The process was very simple and fit into our pipeline very well.

"From an image quality standpoint, the difference between the highest quality settings and native resolution rendering is undetectable.

"FSR was very easy and there were no problems even when using Dynamic Resolution. I believe AMD's GPUOpen philosophy is raising the entire gaming industry's technical standards, which in turn benefits all players.

"We can't wait for players to get their hands-on Forspoken and experience the next-gen graphics that were made possible by FSR."