Scientists successfully test cancer-killing 'Trojan Horse' drug
Researchers have successfully tested a new drug that could potentially kill cancer without damaging healthy tissue that's nearby.

Published Mon, May 31 2021 5:28 PM CDT
|
Updated Mon, Jun 28 2021 4:48 PM CDT
A cure to cancer was found over 10 years ago now and I even reported on it back in May 2011, but we're back again with scientists at the University of Edinburgh with a new cancer-killing drug.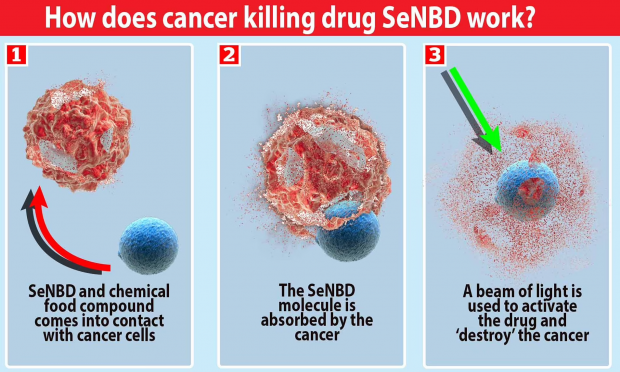 The new "Trojan Horse" drug has the ability of killing cancer and bacterial cells without damaging nearby tissue, just like the researchers from the University of Alberta did in 2011 -- yeah, 10 years ago they had a drug called "dichloroacetate" that destroys cancer cells without harming nearby tissue.
In the new peer-reviewed experimental "Trojan Horse" test, the researchers tested zebrafish and human cells with the cancer-killing molecule SeNBD with a chemical food compound in order to trick the malignant cells into ingesting it. Since the drug was invented, it can have a patent put on it -- unlike the cancer-killing drug from 10 years ago... this one can be very profitable and that's what Big Pharma is all about, those profits.
I Am Legend plot description: "An attempt to genetically re-engineer the measles virus to cure cancer becomes lethal, infecting 99% of the world's population, turning those it doesn't kill into vampiric, albino, cannibalistic mutants called Darkseekers, who are extremely vulnerable to sunlight, and prey on the few who are left unaffected".
Hell, it's even in the predictive programming of I Am Legend, which starred Will Smith and had a very similar storyline with disastrous human-race-ending consequences.
SeNBD is also a light-activated photosensitizer, which means it will only kill cells once it has been enabled by visible light. Surgeons can then precisely time when they want to activate the drug, which can reduce the chances of damage to nearby healthy tissue, and the side effects of regular cancer drugs.
Lead researcher Professor Marc Vendrell, chair of translational chemistry and Biomedical Imaging at the University of Edinburgh explains: "This research represents an important advance in the design of new therapies that can be simply activated by light irradiation, which is generally very safe".
He continued: "SeNBD is one of the smallest photosensitisers ever made and its use as a 'Trojan horse' opens many new opportunities in interventional medicine for killing harmful cells without affecting surrounding healthy tissue".
I don't like the sound of "Trojan Horse" and "cancer-killer" in the same sentence, but that's just me.
Related Tags