Has Cancer been cured? Big Pharma doesn't like that idea very much...
Has a cancer cure been swept under the rug?

Published Fri, May 13 2011 10:27 PM CDT
|
Updated Tue, Nov 3 2020 12:31 PM CST
Edit: After the jump is an update on this news.
Most of us know someone who has been through the trauma that is cancer, with all of this technology at our fingertips, we should be putting limitless funds into the creation of a cure. But, are we too late? It seems so, as it has now been cured. Yet major pharmaceutical companies are not interested.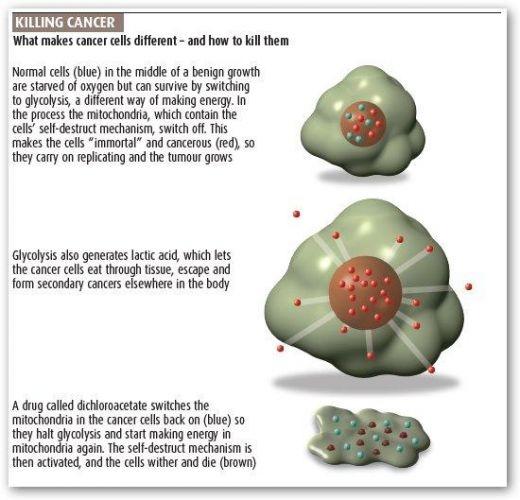 Researchers from the University of Alberta, in Edmonton, Canada cured cancer last week - but just like any other world-changing, yet positive news - the mainstream media aren't reporting on it. The cure involves a basic drug which employs dichloroacetate, which is currently used to treat metabolic disorders. This means there are no side effects or worries of long term effects or problems.
The drug doesn't require a patent which is even better as this means anyone can employ it widely and cheaply versus the costly cancer drugs produced by major pharmaceutical companies. Canadian scientists tested this dichloroacetate (DCA) on human's cells; it killed lung, breast and brain cancer and left the healthy ells alone! It was also tested on Rats who were inflected with severe tumors; their cells shrank when they were fed with water supplemented with DCA.
Why hasn't this been the biggest news in decades?
Pharmaceutical companies are not interested in this new development because DCA method cannot be patented. Without a patent, there's no license to print money from selling this stuff. It's the same game they're playing with the AIDS patent.
Spread this news people, surely someone you know has been affected by these diseases, with enough push maybe we can make a change for once, instead of reading this and fobbing it off as another 'it'll never happen'. I can't make a change by myself, but with me spending 10 minutes to write this news article up, it goes out to [potentially] millions of people whom, even if 1000 re-post it, it can spread like wildfire.
Edit; I've had an email from a reader, Brian, who has informed me of a few things, instead of trying to report what he said, I'll copy paste his email to let you readers know what is going on:
Hi, I just wanted to give you a heads-up that that page you link to as a source for the info is completely mis-reporting the actual case.
1) DCA is a generic orphaned drug which is already being produced. no point in investing in something thats already made.
2) its not curing cancer. The latest update which was about a year ago at the U of A site listed a 5 person clinical trial that had very modest effects on glioblastomas, only 1 type of cancer.
Source: https://www.dca.med.ualberta.ca/Home/Updates/2010-05-12_Update.cfm

I had read about this earlier today at a different site and was very intrigued so I did a bit of research.
Hope you can revise your post so we don't continue this cycle of blowing up this particular old piece of news.
Cheers, Brian.
Related Tags