Nintendo is spending more than ever on research and development to help fund new next-gen hardware, games, experimental technologies, and innovative services.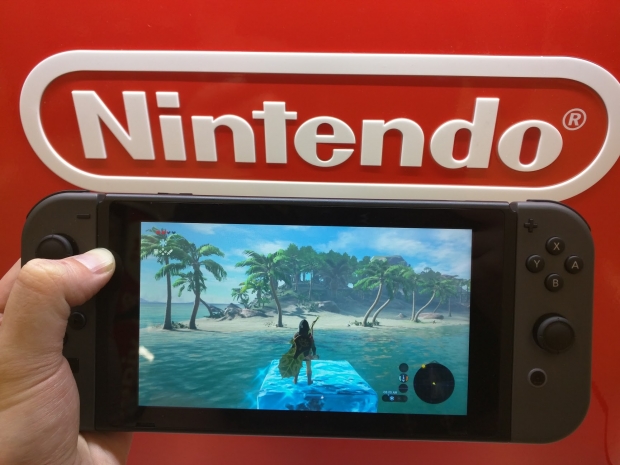 In a recent Q&A session, Nintendo President Shuntaro Furukawa discussed Nintendo's increased research and development expenses. The condensed version of Furukawa's response is that game development costs are rising, Nintendo is currently doing research and studies on beefing up its digital content and services business, and that early phases of next-gen hardware development is underway.
To give Furukawa's statements more context, I decided to put together a look at the company's historical R&D spend since 2002. The results are pretty illuminating. Nintendo has spent $793 million on R&D in FY2021, more than any other period, and rightly so given the higher costs of game dev during this period. The Switch is in the middle of its lifecycle, but Nintendo wants to keep the console's momentum going with a fusillade of games.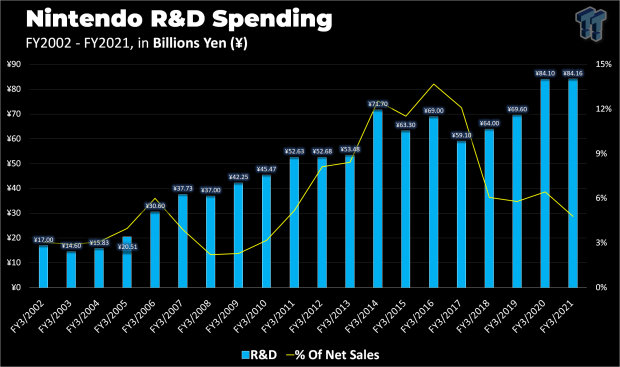 Here's Furukawa's answer to why Nintendo is spending more on R&D:
"Our software development costs, which include outsourcing, are increasing as we work to maintain a continuous stream of new titles for Nintendo Switch as it enters the middle of its lifecycle. Because per-title development costs are higher now than they were on past platforms, we anticipate that R&D expenses will continue to rise as we work to maintain a sizeable lineup of titles.

"We are also conducting a variety of studies, which include investigating ways to enhance our digital business, and future services that will help maintain long-term relationships with our consumers, as was touched on in the Corporate Management Policy Briefing last September.

"In addition, the development of the next generation of hardware needs to begin years before launch, so R&D expenses for that are gradually rising.

"We are aiming to grow by continuing our integrated hardware-software entertainment business, and that means conducting all sorts of research and development in various areas including both hardware and software."
It's also interesting to note the timing of Nintendo's R&D spikes. The jumps are two-fold: they happen both before big hardware launches and during said hardware cycle. This is basically Nintendo spending money on hardware development and then on games development.
It's not just games, though; Nintendo spend on all facets of research and development including experimental tech like machine learning/AI, online-driven services, the eShop, VR, and a multitude of other things.
Here's an explanation of Nintendo's R&D spending per the company's FY2021 earnings report:
Nintendo primarily engages in the active development of hardware and software for dedicated video game systems, with support from various companies and organizations, in its effort to put smiles on the faces of everyone Nintendo touches around the world by offering new and compelling products that anyone can enjoy. We also undertake the planning, development and operation of games that many people around the world can enjoy in the form of smartdevice applications.

With respect to hardware, we continuously investigate and undertake research on fundamental technologies spanning data storage technology such as semiconductor memory, display technology such as liquid crystal displays, and electronic components, while we also carry out research and development activities to examine the applicability of various technologies including interfaces such as touch panels and sensors, wireless communication, networks, security, cloud computing, virtual reality, deep learning and big data analysis to the field of home entertainment.

Our efforts are not limited to in-house studies and research in that we are also exploring various possibilities on a daily basis to discover technologies that will help create new ways to play by proactively turning our attention outside Nintendo.

Moreover, we continue to enhance the durability, safety, quality and performance of our products to ensure that consumers can comfortably enjoy them over an extended period, as well as design and develop various accessories, and pursue cost-cutting and energy conservation initiatives.

With respect to software, we are focusing on taking full advantage of hardware features in planning our products, designing games whose elements include graphics, music and game scripts, and developing programs. Furthermore, in order to deal with digital business expansion, we have strongly driven the expansion of system infrastructure that supports various networking functions of software and multi-sectorial network services such as Nintendo eShop.

In addition, we have established the research and development structure for smart-device software to promote the planning and development of smart-device application software and the development of a back-end server system.

In terms of our component procurement and manufacturing processes, we, with the cooperation and support of our manufacturing partners, continuously research and accumulate relevant technical know-how on mass production of components using new test methods and technologies, and also comply with relevant regulations.