Storage-maker Muskin just launched a new line of high-performance SSDs that pack a whopping 8TB of storage.

Mushkin's new Alpha series SSDs hits up to 3.3GB/sec sequential reads and 3GB/sec sequential write speeds, and comes in two massive 4TB and 8TB capacities. There's some huge price tags to match: the 4TB model costs $649 whereas the 8TB will set you back $1,299.
The Alpha series use Phison's powerful 12-channel E12 memory controller on PCIe Gen3x4, complete with QLC 3D NAND--possibly Micron's 96-layer QLC memory.
The Alpha SSDs are meant for high-end and demanding enterprise-level storage, whether it be cloud operations or computation. The drives are ultra-durable and are rated for 900TB of data written, and also come with Mushkin's MEDS data protection suite.
Check below for more specs and details:
Capacities: 4TB and 8TB M.2 (2280) PCIe 3 x4 NVM Express 1.3 SSD

Max Sequential: 3300MB/s (Read) / 3000MB/s (Write)

4KB Random: 550,000 IOPS (Read) / 680,000 IOPS (Write)

Operating Temperature: 0C to 70C

Storage Temperature: -40C to 85C

Phison Controller: E125

Dimensions: 22mm x 80mm X 2.25mm

Warranty: 3 Year Limited Warranty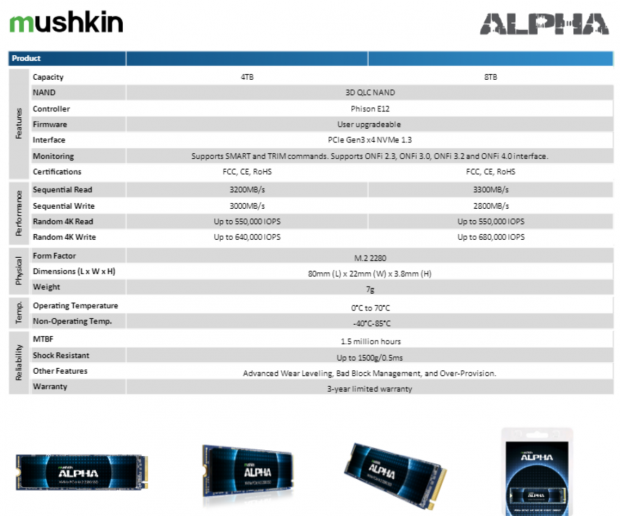 BROADEN YOUR HORIZONS

The Mushkin ALPHA series is not just another SSD. It's a perfect example of how there can never be too much of a good thing. With l large capacity, quicker load times and blazing fast transfer speeds the Mushkin ALPHA teams up with your PC and takes you to the next level of performance and moves beyond the standard.

MEDS (Mushkin Enhanced Data-protection Suite)

Low-Density Parity Check (LDPC) ECC: Provides the most-powerful data correction level in use today

End-to-end data path protection

Advanced Wear Leveling, Bad Block Management, and Over-Provision.

SmartECC- and SmartRefresh

Global wear-leveling evens program/erase counts across data blocks to extend lifespan

Power Management Support for APST / ASPM / L1.2.

FCC, RoHS, FCC, CE and VCCI compliant.