Mindfactory data: AMD is outselling and smashing Intel 87% to just 13%
AMD is utterly destroying Intel with Mindfactory's new numbers: 87% to just 13%

Published Mon, Jun 8 2020 9:23 PM CDT
|
Updated Tue, Nov 3 2020 11:43 AM CST
AMD has completely disrupted Intel's reign on the CPU market, with German tech retailer Mindfactory releasing some rather eye-opening sales numbers.
According to their sales for first week of June 2020, there have been 5270 AMD Ryzen processors sold, compared to just 770 processors by Intel. This means that AMD has 87.25% of sales for the first week of June, leaving Intel just 12.75%. The most popular CPU sold was the Ryzen 5 3600, followed by the Ryzen 7 3700X.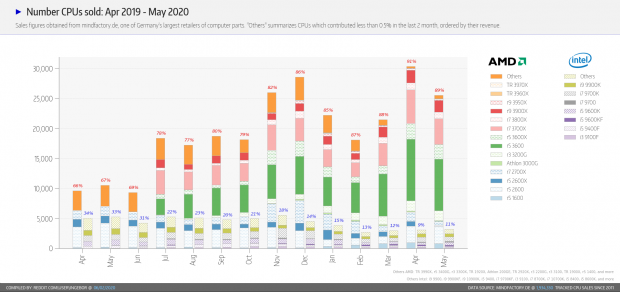 Hell, the top 7 most popular CPUs sold are AMD Ryzen -- with the Intel Core i7-9700K breaking it up, then it's back to AMD Ryzen again before Intel can get three in a row with its Core i9-9900K, Core i5-9600K, and Core i7-10700K.
The big question is: what are you running in your gaming PC?
AMD Ryzen 5 3600X 6-Core, 12-Thread Unlocked Desktop Processor (AMD Ryzen 5 3600X)
Related Tags