Zenimax recruits seasoned game dev Colin Cambpell (Mass Effect, Jedi: Fallen Order) to help with its big new AAA game.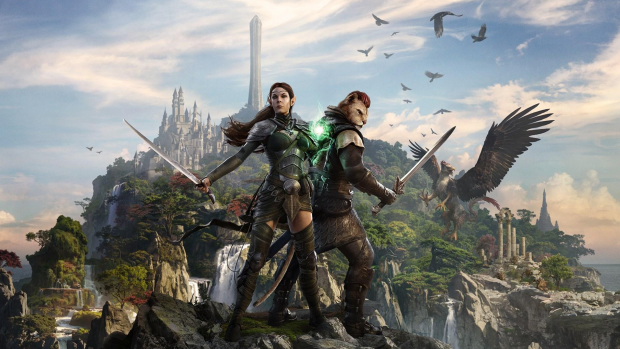 The Elder Scrolls Online developers at Zenimax Online are making a brand new AAA IP, and based on an old job listing from October 2018, it's likely an MMORPG. Official details are scarce and Zenimax has mostly been tight-lipped on its new game plans, but we can glean the scope of the project based around the talent involved.
Case in point: the games-maker just recruited Colin Campbell as a level designer for its new AAA team. Campbell has quite the CV, and has a ton of projects under his belt. He worked as producer on Jedi: Fallen Order at Respawn, was the lead narrative designer of Battlefront II's singleplayer campaign, and served four years at BioWare designing levels for the Mass Effect series. Now he's working on Zenimax's unannounced game.
Zenimax is currently ramping up its workforce for the new project. There's a ton of open positions available and many of them are for the new AAA team.
The game won't be out for quite a while, though. The new IP is only just now entering pre-production, so for now The Elder Scrolls Online will be Zenimax's baby.
Here's info from the Lead Combat Designer listing:
ZeniMax Online Studios is seeking a Lead Combat Designer to join our studio for the development of our next AAA game. This is a chance to join an experienced group of developers in pre-production for a new IP.

This role will collaborate with the Creative Director, Lead Game Designer, Lead Engineer and Lead Systems Designer to plan foundational combat systems, flesh them out with fun mechanics, and hone them to industry-leading quality. This role will also work extensively with AI, animation, and gameplay engineers to build all the combat systems needed to fill the game with a wide range of challenging enemies and fun combat setups.

Qualifications

Deeply creative with a great sense of what makes for fun gameplay

Excellent leadership skills, and ability to work collaboratively in a cross-discipline development environment

Expert proficiency integrating imagery and text to deliver thorough, easy to understand design documents

Comfortable with a development schedule that is playtest-driven and focused on iteration and polish

Strong understanding of the discrete elements that game systems are built upon, and the ability to problem solve both holistically and on a per-component basis

Excellent verbal and written communication skills

Working knowledge of scripting or programming

An online portfolio which clearly demonstrates relevant work experience

Responsibilities

Own the vision for combat on the project

Lead the combat design team in the development of mechanics, player abilities, weapons, and enemy designs to deliver a thrilling yet approachable combat experience

Work with the level design team to determine how combat spaces are built

Help define tool needs for scripting and laying out combat encounters, building combat systems, and tuning combat data

Collaborate with all development disciplines to bring gameplay systems from early vision to industry-defining final implementations

Establish standards for documentation and implementation practices

Mentor combat designers and help them grow in their careers

Preferred Skills

Experience developing Open World games

Experience in level design

Strong public speaking skills