AMD's new sTRX4 socket: future-proof, supports 64C/128T on desktop
AMD's ensures future-proof upgrades with 'long-term' longevity on new sTRX4 socket.

Published Tue, Nov 12 2019 12:05 AM CST
|
Updated Tue, Nov 3 2020 11:46 AM CST
AMD recently announced and will soon launch its new third-gen Ryzen Threadripper CPUs, where we will eventually see up to 64C/128T on the desktop courtesy of the new sTRX4 socket -- a new socket from AMD that is actually worthy of being called "future-proof".
The reason we're able to call AMD's new sTRX4 socket 'future-proof' is that the company itself has confirmed on Reddit that sTRX has AMD's support in both "near- and long-term basis". AMD confirmed that while the new socket has the same 4094 pin count as the previous-gen Threadripper CPUs, it is the "mapping of those pins to voltage or data will be different" with sTRX4.
AMD confirmed you can't install a third-gen Ryzen Threadripper into an older motherboard, and you can't use an older Ryzen Threadripper CPU in a new sTRX4 motherboard. Now, before you get all mad and claim "this isn't how it should be done!" there are two reasons for this. AMD explains:
We wanted to drive maximum performance for the 3rd Gen AMD Ryzen Threadripper processors and sTRX4 helps us do exactly that. The 3rd Gen Threadripper will have 88 total PCIe Gen 4 lanes with 72 usable (CPU+motherboard). The net of total versus usable is because we're also increasing the CPU<->chipset link from 4x Gen4 to 8x Gen4-quadruple the bandwidth vs. 2nd Gen TR. Extra data pins between the chipset and CPU make this possible, so you'll be able to hang more I/O off the motherboard at full performance.

The socket change also sets us up nicely for future development and scalability of the Threadripper platform, both on a near- and long-term basis.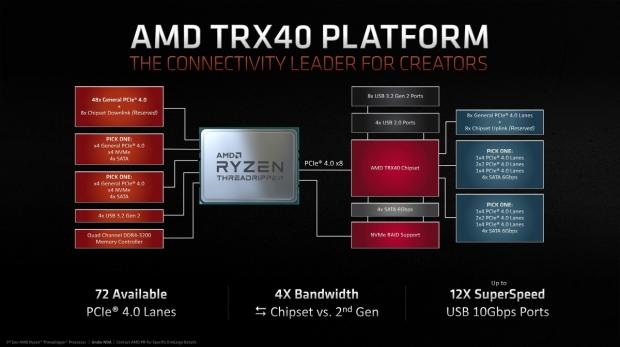 Related Tags