If you thought the CPU war was over... you'd be wrong: it has only just begun with AMD really slaying it right now with the Ryzen 3000 series, while Intel has literally just responded with the release on the Core i9-9900KS (our review here) with all-core 5GHz boost.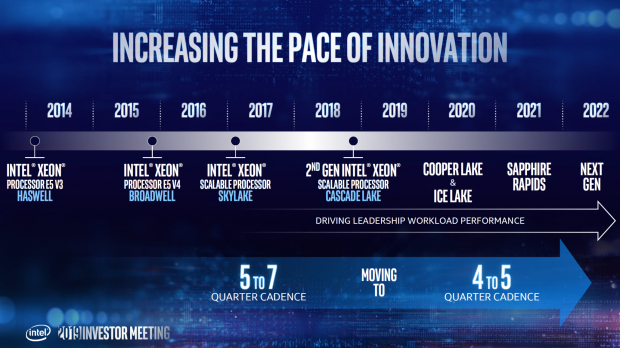 But what about the higher-end of things with AMD also starting to kick some serious ass with its EPYC datacenter/AI chips based on the new Zen 2 architecture as EPYC 'Rome' chips? Well, it seems that Intel is responding with some new rumors teased by Wccftech, which involve both a new 10nm and 14nm+++ CPU.
Intel's new Ice Lake-SP family of processors is on the fresh new 10nm node and will launch on the Intel Whitley platform, which also supports the Cooper Lake-SP/AP chips on the 14nm++ node.
The new Ice Lake family are planned for Q3 2020 and will be on the Socket P+ platform and available in up to 2-socket configurations, with up to 38 cores per socket. This means a single-socket Ice Lake CPU platform can have a maximum of 38C/76T, while a dual-socket Ice Lake CPU system will have up to 76C/152T.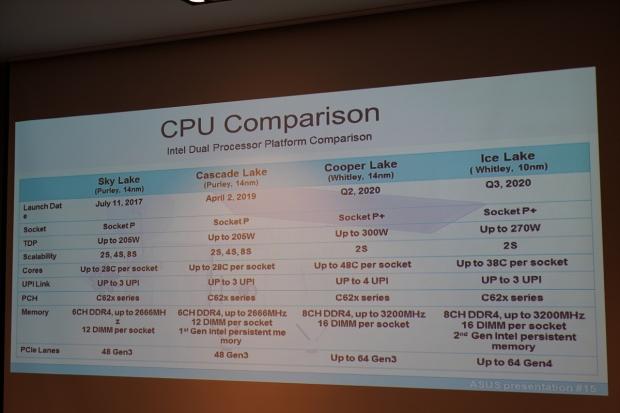 Ice Lake CPUs will have up to a 270W TDP, 8-channel DDR4 support at up to 3200MHz and 16 DIMMs per socket, while offering up to 64 lanes of PCIe 4.0 goodness. This is the big upgrade with Ice Lake family, is that PCIe 4.0 is introduced with dual sockets at up to 38C/76T per socket.
This is where things get weird, but let me explain -- the Cooper Lake CPUs will arrive in Q2 2020 on the 14nm+++ node on the same Socket P+ but with up to 48 cores per socket. So, we have 48C/96T per socket meaning dual-socket Xeon servers based on Cooper Lake will have a huge 96C/192T of processing power.
Intel needs it to compete with AMD's new EPYC Rome CPUs with 64C/128T in single chip solutions, with dual EPYC Rome systems packing an insane 128C/256T. This is better than anything Intel can offer right now, and better than what is not even released -- news I'm writing about CPUs coming in the SECOND HALF of NEXT year.
Not only will the Cooper Lake Xeon CPUs on 14nm+++ have more cores per socket than their 10nm counterparts, they'll also have higher clock speeds across those more cores. This is because Intel has aged its 14nm+++ node into a fine wine, as it has bloody well had no other choice.
It was busted apart with its many fumbles including the 10nm node, and now AMD has come along and kicked them in the back of the knee with Zen and Zen 2 with EPYC dominating so much.
We should see a monster 56C/112T variant in the Cooper Lake family, but this will be a Xeon-AP chip that has two dies on a single interposer. This is another win for the Cooper Lake chips over the Ice Lake CPUs, but that doesn't mean Ice Lake doesn't have its own new upgrades. But, this monster could ship with a TDP that is as hot as hell itself at 400W... imagine what it would be pushed to its limits with clock speeds.
Intel's new Ice Lake CPUs will arrive on the enhanced 10nm+ node over the original 10nm node Intel is using/used, with some nifty upgrades that include:
2.7x density scaling vs 14nm

Self-aligned Quad-Patterning

Contact Over Active Gate

Cobalt Interconnect (M0, M1)

1st Gen Foveros 3D Stacking

2nd Gen EMIB