CRINGE: Lady Gaga asks who Ninja is, asks 'what's Fortnight'
Lady Gaga uses her best Poker Face to ask Ninja who he is, should've just asked 'what is Fortnight' instead.

Published Thu, Oct 17 2019 8:35 PM CDT
|
Updated Tue, Nov 3 2020 11:46 AM CST
We all know who Ninja is -- the most famous game streamer who left Twitch in a huge way for Mixer, and now singer/actress mega-star Lady Gaga is wanting to know who he is. Lady Gaga recently took to Twitter simply asking "@Ninja, who are you".
Tyler "Ninja" Blevins replied from his own Twitter, saying "Ask @Drake" -- referencing the time he set records for Twitch streams playing Fortnite with Drake back in 2018. It gets worse though, as Lady Gaga tweeted the day before "What's fortnight". Really... all that money, all those people around her, all that brain power and influence and she hears about "Fortnight" without Googling what it is?
Now sure, Lady Gaga -- or as she's known by her real name Stefani Joanne Angelina Germanotta, could be genuinely wanting to know about Fortnite. But, do you come onto the internet and then on Twitter where she has just shy of freaking 80 million followers and ask 'What's fortnight' without doing a quick Google search?
We could be seeing some really sly and deliberate marketing for an upcoming Fortnite stream... which can you imagine, Ninja playing Fortnite (or is that Fortnight) with Lady Gaga? Imagine the views with that on Mixer, which right now, really needs those eyeballs on it because even with Ninja on their team they aren't changing the streaming game that much.
Time will tell, and until then Just Dance.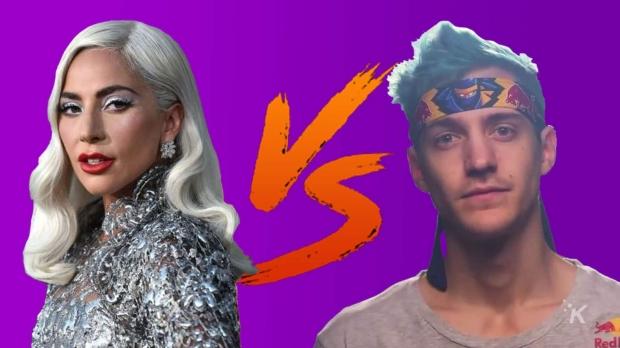 Related Tags