Jedi: Fallen Order's 32GB RAM recommendation was an error
Jedi: Fallen Order only recommends 16GB of RAM, not 32GB.

Published Tue, Oct 8 2019 6:32 PM CDT
|
Updated Tue, Nov 3 2020 11:46 AM CST
Jedi: Fallen Order's PC spec requirements went up today, but EA erroneously listed 32GB as the game's RAM recommendation. The real recommendation is only 16GB.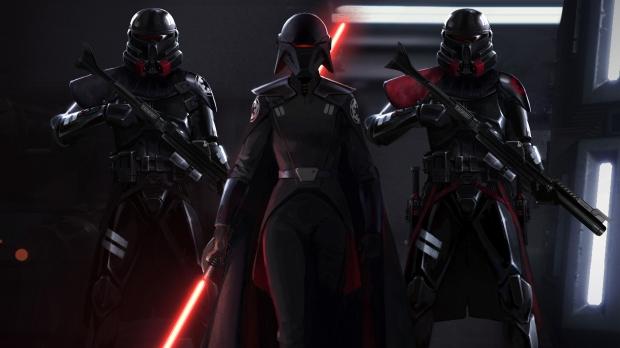 EA's Star Wars team confused a lot of PC gamers today by accidentally listing the wrong system memory recommendations for Jedi: Fallen Order. The game was originally listed as recommending a huge 32GB of RAM, which of course made everything think Respawn hadn't properly optimized the game on PC. All the other PC specs are fine: minimum requirements sit at an i3-3220/FX-6100 CPU, 8GB of RAM, and an AMD Radeon HD 7750 or NVIDIA GeForce GTX 650. The recommended specs are also pretty mild and ask for a Ryzen 7 1700 CPU/Intel i7-6700K and a RX Vega 56 or NVIDIA GeForce GTX 1070 GPU.
Now EA's Ben Walke jumps in to confirm it was an error. Jedi: Fallen Order recommends users have 16GB of on board RAM, matching up and balancing with the other specs.
Everything we've seen so far makes Jedi: Fallen Order out to be something special. It's a singleplayer-only game (rare for Star Wars, and even more rare for EA) that unites Uncharted's action-adventure focus with Jedi Knight's involved force power appeal, complete with a very Sekiro-esque combat system with deft, agility, and grace.
Respawn has been working on the project since 2014, and promises to deliver "larger than life action" and meaningful story experiences with their new game.
Jedi: Fallen Order will release on November 15, 2019 on PC, PS4, and Xbox One.
MINIMUM REQUIREMENTS
OS: 64-bit Windows 7/8.1/10
Processor (AMD): FX-6100 or Equivalent
Processor (Intel): i3-3220 or Equivalent
Memory: 8 GB
Graphics card (AMD): Radeon HD 7750 or Equivalent
Graphics card (NVIDIA): GeForce GTX 650 or Equivalent
DirectX: 11 Compatible video card or equivalent
Hard-drive space: 55 GB
RECOMMENDED REQUIREMENTS
OS: 64-bit Windows 7/8.1/10
Processor (AMD): Ryzen 7 1700 or Equivalent
Processor (Intel): i7-6700K or Equivalent
Memory: 16 GB
Graphics card (AMD): RX Vega 56 or Equivalent
Graphics card (NVIDIA): GTX 1070 or Equivalent
DirectX: 11 Compatible video card or equivalent
Hard-drive space: 55 GB
Related Tags