Kamala Khan aka Ms. Marvel will be a titular heroine of Crystal Dynamics' big new Avengers live service game.
Square Enix makes good on its promise to add more superheroes to Avengers' roster. This time the hero pool expands with Ms. Marvel, complete with her ass-kicking abilities: In the new trailer, we see Kamala stretching out her limbs to dish out devastating hook kicks and smash foes with her gigantic hands. Her abilities aren't just for fighting though. She can use her extending limbs as a kind of grappling hook to grab nearby ledges to escape attacks.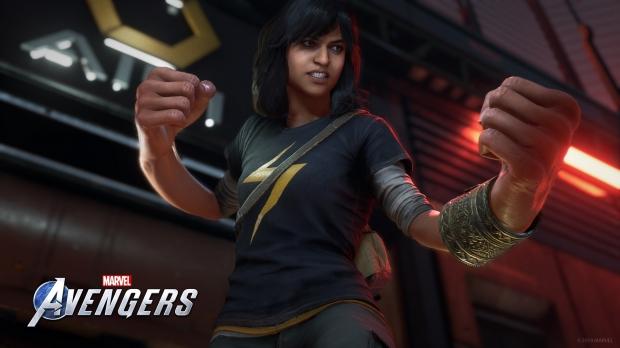 Crystal Dynamics' Avengers game is set in its own unique alternate timeline, but each characters' origin stories still match up with the comic source material. Players will get to live through Kamala's humble beginnings and experience her transformation into the mighty Ms. Marvel. She's described as a fan-girl of the Avengers squad, but she's actually the glue that holds them all together by discovering proof that the A-Day catastrophe was a setup.
Remember the Avengers is a live service game aimed at replayability and an evolving story. It has a singleplayer story mode that can be played offline, but it's mainly driven by co-op live content. Players will get to level up skills, earn new items, and partake in a series of progression schemes--all of which is monetized with microtransactions.
The idea is to blur live games with singleplayer games using Marvel's huge comic book lore and canon. Square Enix and Crystal Dynamics want to create a game that can be played for years t come.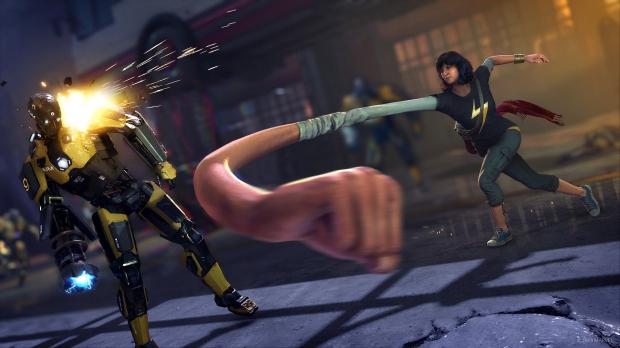 Kamala Khan will be a playable character when Avengers ships in May 15, 2020 on PS4, Xbox One, PC, and Google Stadia.
Everyone at Marvel, Square Enix, and Crystal Dynamics is excited for Ms. Marvel's appearance. Here's what they said in a recent press release:
"An optimistic fan girl of the Avengers, Kamala Khan is the perfect character for the story we're telling in Marvel's Avengers," said Shaun Escayg, Creative Director and Writer at Crystal Dynamics. "Telling our story of Kamala's coming-of-age brings a fresh, hopeful perspective to the gameplay experience and her unique abilities as Ms. Marvel make her a character every person can relate to and will want to play. Kamala Khan is one of the unique characters that makes our game stand apart from any Avengers story experienced before."
"Kamala is an inspired and perfectly fitting choice to join the ranks of, and reassemble, Earth's Mightiest Heroes," said Bill Rosemann, VP of Creative at Marvel Games. "Perhaps more than any other character invented over the past decade, Ms. Marvel has not only charmed the hearts of longtime True Believers, but her unique mix of classic Marvel heroic elements and modern cultural relevancy has resulted in a headline-generating cultural icon."
"It is a thrill to see Kamala in the Marvel's Avengers game," said Sana Amanat, VP of Content and Character Development at Marvel. "Crystal Dynamics has done a marvelous job of crafting a brand-new take on Kamala, while staying true to the spirit of her inspiring character, charismatic persona, and relatable purpose. Fans of the character are in for quite a ride, along with a few surprises, when Marvel's Avengers makes its debut next year."
"I think Kamala is a perfect fit for a game like this, since she sees the Marvel world the same way we do as fans and players," said G. Willow Wilson, co-creator of Ms. Marvel. "Kamala allows us to imagine what we ourselves would do if we suddenly discovered we had superpowers and got to stand alongside our heroes in their time of greatest need."