Take-Two CEO doubtful that consumers have time for Game Pass services
'It's not clear to me consumers want an all-you-can-eat offering.'

Published Sat, Sep 21 2019 1:25 PM CDT
|
Updated Tue, Nov 3 2020 11:47 AM CST
The CEO of Rockstar parent company Take-Two Interactive is dubious consumers actually want to be flooded with options by subscriptions like Xbox Game Pass.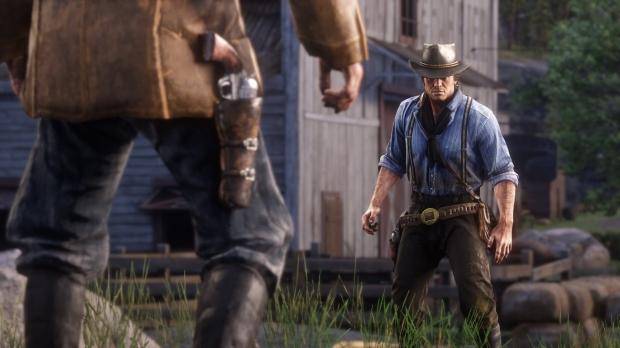 Right now Xbox Game Pass is tremendously popular. The $10 a month subscription offers a glut of choices on consoles, including all future first-party Microsoft games, a ton of new titles that rotate in and out, and yesteryear classics. Its all-you-can-play model is disrupting the market and prompting major players like Ubisoft (uPlay+) and Apple (Apple Arcade) to follow suit.
But according to internal data collected by billion-dollar publisher Take-Two Interactive, most consumers only have a small slice of time to play games, and therefore spend their free time on a select few core titles. These consumers don't necessarily want to be inundated by too many games to play. For that reason, and the reason that gaming competes directly with entertainment like Netflix and other recreational activities, Take-Two isn't totally convinced services like Xbox Game Pass are the future of gaming.
"It's not clear to me consumers want an all-you-can-eat offering in interactive entertainment," Take-Two Interactive CEO Strauss Zelnick said at a recent Goldman Sachs entertainment event.
If it turns out that's what consumers want, then Take-Two will be right there to fall in line.
"At the end of the day, for any new offering to work, you have to start by appealing to consumers. It also though has to work for the content providers and distributors, so you have to find that intersection. I haven't yet been convinced we'll be able to find that intersection in a subscription vehicle. But to be clear, if consumers demand, then that's where we're going to have to be."
Mr. Zelnick goes on to say that even if Take-Two does embrace subscriptions, it probably won't go all-in like Microsoft or Ubisoft.
We won't see Grand Theft Auto 6 bundled up in a Rockstar Game Pass, for example.
"If we go that route, will we see our frontline releases wrapped in a subscription? Well no. Netflix hasn't done that except for their own originals. Motion picture tentpole releases have not been tied to any subscription offerings, and I'm skeptical they will be."
The CEO outright says big generation-defining headliners (like GTA V, Red Dead Redemption 2 and even Sony's PS4 exclusives like God of War and Spider-Man) will still be sold outside of the subscription model.
"My guess is you'll have a robust subscription offering, however it'll be much more of a catalog offering rather than a frontline offering in interactive entertainment. You'll continue to have really big tentpole high-quality releases, but they'll be a limited number of them. Consumers will pay a premium for them, and then you'll have a robust free-to-play market as well."
As for game streaming, the company CEO says it won't abandon its current business models. Even if it does bring its games to streaming-only services like Google Stadia (which it's already doing) and Microsoft's Project xCloud, its games will still be sold in every other distribution channel.
"We're still going to pursue the same business models. We're still going to sell a permanent product for $60 in the U.S. and more than that outside of the U.S. We're supporting Stadia, we're supporting other offerings, we want to be where the consumer is. Any new technology that allows a consumer a great opportunity to consumer a products...that remains to be seen."
Mr. Zelnick's take is certainly an interesting one. Most companies are embracing the Game Pass model and seek to emulate Microsoft's hard focus on live services and lucrative subscriptions. But Take-Two is a little different. Yes, they focus strongly on monetization in nearly all their big games, especially NBA 2K and latest Rockstar releases, but there's no subscription platform for them just yet. Borderlands 3 is indeed coming to Stadia, but Stadia is more of a storefront than an all-you-can-eat service.
Ultimately we should expect to see publishers' biggest games see retail and digital releases outside of subscriptions...unless of course they're completely live service-obsessed like Ubisoft, Microsoft, and EA.
Related Tags