Today Amazon announced that Prime members will get access to free in-game items in specific mobile games, starting with PUBG Mobile.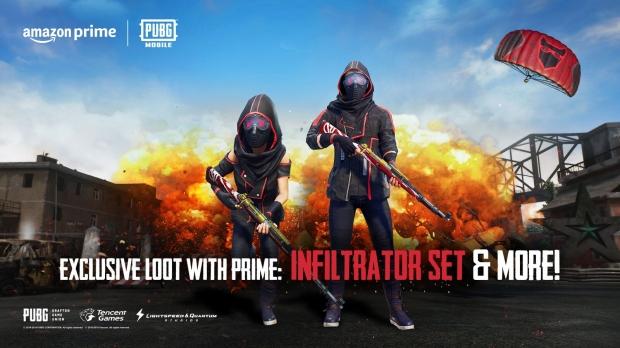 In a bid to keep rewarding subscribers and engage within billion-dollar games, Amazon has teamed up with some of mobile's hottest companies for Amazon Prime freebies. Prime subscribers now get access to an exclusive set of stylish Infiltrator skins on PUBG Mobile, which can be claimed here. These new offers are in conjunction with the existing Twitch Prime freebies and don't replace any other initiatives.
"Starting today, Prime members can take down enemies in style by claiming the exclusive stealthy Infiltrator Mask for PUBG MOBILE. Prime members will then be able to claim the Infiltrator Jacket, Infiltrator Pants, and Infiltrator Shoes to complete the Prime exclusive set, plus the brand-new Blood Oath - Karabiner 98K and Black Magma Parachute," reads a press release.
We'll likely see this trend continue with more Prime freebies in huge new mobile games like Call of Duty mobile, which includes traditional multiplayer and a huge 100-player battle royale mode. Other games like Candy Crush, Clash of Clans, and maybe even Blizzard's upcoming Diablo Immortal could be next.
We should expect to see freebies roll out every month or so and will probably extend to exclusive skins and the like.
"We've long been committed to making Prime the best deal in games, with great content for PC and console games from Twitch Prime, and now we're offering our members even more value, with new mobile game benefits," said Ethan Evans, VP, Twitch Prime.
"Now, no matter what platform you play on-whether console, PC, or mobile-there are Prime game benefits for you. We're starting with exclusive content for PUBG MOBILE one of the biggest mobile games in the world, and in the coming months, we'll roll out benefits for some of the most popular mobile games across many favorite genres."