Super Nintendo World makes a theme park into a game, coming in 2020
Universal Studios' new Super Nintendo World theme park will open spring 2020 in Japan, more parks to come worldwide.

Published Fri, Sep 13 2019 1:47 PM CDT
|
Updated Tue, Nov 3 2020 11:47 AM CST
The first of Universal Studios' new Nintendo theme park attractions will open Spring 2020 in Osaka, Japan, complete with interactive wristbands and two rides.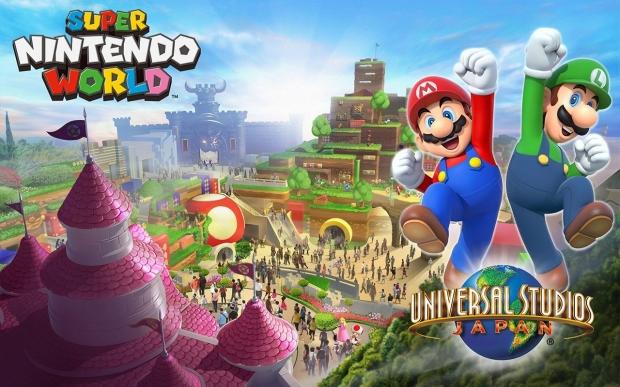 The new Super Nintendo World theme park is gearing up for its 2020 launch in Universal Studios Japan, and its first phase will include two rides: a Mario Kart and Yoshi's Adventures ride. In a recent Merrill Lynch media event, Universal Parks and Resorts CEO Tom Williams confirmed the news and outlined some interesting tidbits.
Super Nintendo World has three separate levels and is fashioned like a Mario Bros. level. The park will have snap-on wristbands that make the entire area into an interactive game that's actually compatible with the Switch. You'll be able to keep score and track your progress, and maybe even play mini-games on the Switch itself. There will even be Nintendo-themed food.
"We're going to open up next spring. It's a whole new separate area of the park. It's got food. It's got merchandise. The first phase will have 2 rides, Super Mario Kart ride as well as Yoshi's Adventures. There will be 2 rides. The whole land is interactive, and you're going to have a wristband. It's got the big red Mario symbol on it. It's -- by the way, the wristband is super cool. It's all magnetic," Williams said.

"You slap it at your wrist, and it just snaps on, and it won't come off. And that allows you to, on an interactive basis, hit -- throughout the entire land, which is built on 3 different levels.

"And it's got all the pop -- Bowsers, in Princess Peach's castle and all the different key elements, and you'll be able to go up and keep score and play with the various games, and that also translates to a score-keeping capability if you choose to do so within the rides and actually interfaces back with your game consoles. So you can build on it and come back again, and it's really got everything going on."
Williams also confirms this is just the first phase of Super Nintendo World.
Given Nintendo's absolutely massive brand awareness, Universal plans to build multiple Nintendo parks across the globe to sell tickets and make cash from merchandise.
"We have a license deal with Nintendo, Kyoto, Japan, but the data on Nintendo was insane in terms of the number of gamers and how deep the emotional connection runs with them. And we have a deal to do substantial Nintendo park experiences at all of our parks around the world. And so we're hard at work at doing that.

"It will be open up next spring, and it's just going to be fantastic. So a whole incremental footprint to the park. It's already our #1 -- Osaka -- or USJ, Universal Studios Japan, is our #1 attended park, single park basis. Orlando is bigger because it's got more than one park. But single part basis, it's Japan, and it's going to be even better with Super Mario World. So those are the big priorities."
Related Tags