Gears 5's microtransactions aren't entirely cosmetic
Gears 5 sells XP boosts for iron, a premium currency that can be purchased with real money.
Published
1 minute & 48 seconds read time
Gears of War 5's microtransactions aren't entirely cosmetic. Gamers can purchase XP boosts with premium currency that affect gameplay.
As with most major developers and publishers, The Coalition made big noise about Gears 5's microtransactions being 100% cosmetic. Except that's technically not the case. Gears 5 is a clear example of Microsoft's live service-first focus, complete with lots of grinding, unlockables, and engagement-driven events. The glue that holds Gears 5 together is Iron, a currency that's earned in-game from supply drops and events. It's also purchasable with real money.
Iron is used to unlock things like skins and costumes. It's also used to buy XP boosts that last up to 30 days at a time, and have a pretty substantial effect on your earn rates. Here's how The Coalition explains boosts on the Gears 5 website:
Boost is a new optional purchasable in Gears 5 that provides accelerated progression for a period of real-world time (e.g. 1 Day, 7 Days, etc.).

Boost offers the following benefits:

Double Multiplayer XP

Double Character XP for Escape & Horde

Double speed Supply Drop Progression
In true modern day game fashion, iron is sold for real money in various denominations that range up to $100. It's also hard to get while playing right now and the Gears 5 in-game store is selling some content for as much as 1,000 iron.
500 Iron - $4.99

1,000 Iron - $9.99

2,250 Iron - $19.99

6,000 Iron - $49.99

10,000 Iron - $59.99

12,500 Iron - $99.99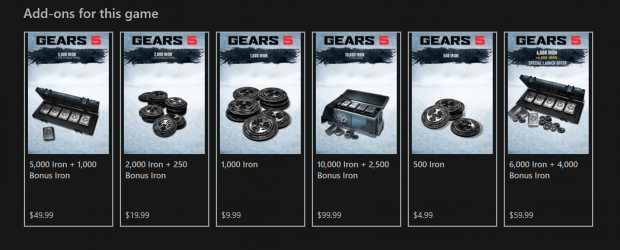 Quick conversions reveal the pricing of the one-time XP boosts too. It's worth mentioning these boosts can't be purchased directly with real money, but indirectly with iron. A one-day XP boost costs $2.50, a 7-day boost costs roughly $6, and a 30-day boost is around $12.
Kotaku does a great job outlining Gears 5's needlessly confusing engagement monetization system, so check that over for more info.
All in all Gears 5 is a taste of what's to come from Microsoft's big first-party projects. I fear Halo 6 will indeed follow a similarly layered grind-path, complete with cosmetic microtransactions, skins, and tons of live service hooks.
Related Tags