DARPA is on the hunt for MASSIVE underground tunnels for experiments
DARPA is looking for a new underground evil lair for 'research & experimentation'

Published Wed, Aug 28 2019 10:45 PM CDT
|
Updated Tue, Nov 3 2020 11:47 AM CST
DARPA is on the look out for a new underground military tunnel or base, putting out a request for university-owned or commercially managed underground urban tunnels.
Why? Well, for research and experimentation purposes of course. DARPA is desperate, posting the request on August 20 and saying it wants responses by August 30 by 5PM ET. I guess the world might be ending on September 1, eh?
DARPA said that their ideal space would be a "human-made underground environment spanning several city blocks w/ complex layout & multiple stories, including atriums, tunnels & stairwells. Spaces that are currently closed off from pedestrians or can be temporarily used for testing are of interest".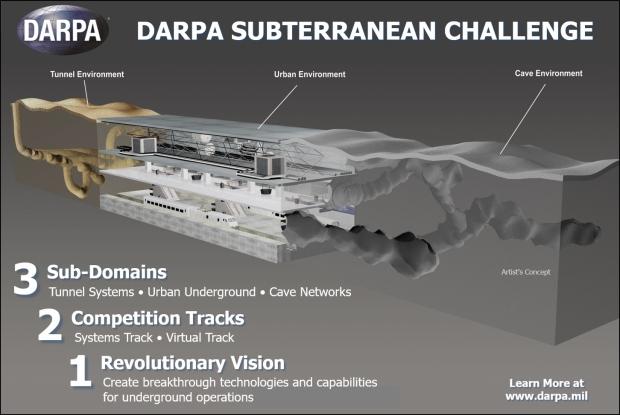 Doing a bit of digging (after re-reading this, that pun was totally unintentional) I found that there is a DARPA Subterranean (SubT) Challenge, something DARPA posted to its official site explaining that the challenge aims to "develop innovative technologies that would augment operations underground. The SubT Challenge will explore new approaches to rapidly map, navigate, search, and exploit complex underground environments, including human-made tunnel systems, urban underground, and natural cave networks".
The SubT Challenge is looking to hit technological breakthroughs into:
Concepts of operations that enable and exploit the capability to conduct rapid and autonomous subterranean missions and saving lives through enhanced situational awareness; and

Composition of system capabilities to offer freedom of mobility at operationally relevant speeds in complex, unpredictable, and diverse subterranean environments.
DARPA is even throwing some big money into the mix, with teams in teh Systems track competing for up to $2 million in the Systems Final event, and up to $200,000 in other prizes for the self-funded teams in each of the Systems Circuit events. Teams participating in the Virtual track have up to $1.5 million in the Virtual Final event, while up to $500,000 is going to self-funded teams in each of the Virtual Circuit events.
Related Tags