Public Halo Reach PC campaign demo coming next week
Halo Insiders can try out Reach's campaign on PC next week.

Published Jun 21, 2019 3:50 PM CDT
|
Updated Tue, Nov 3 2020 11:48 AM CST
343 Industries plans to start rolling out early beta tests for Halo Reach's PC version as soon as next week.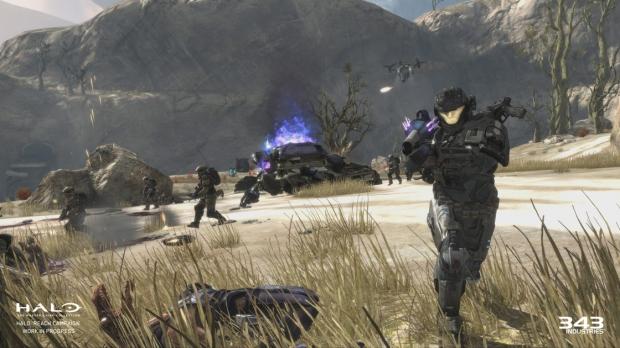 In a recent Halo community update, 343i said it plans to release beta tests for Halo Reach's multiplayer and campaign on PC. The "flighting tests" are planned to start next week, and include both a public campaign demo that'll be available to all Halo Insiders, and a closed NDA-protected multiplayer test.
"For those of you who weren't able to join us in person at E3, be sure to sign up for Halo Insider as we will have a small public flight with this demo next week," 343i's Unyshek said.
Halo Reach's multiplayer testing on PC will be much more involved. The schedule could change due to unforeseen circumstances, and only a handful of insiders will be let in. 343i is prepared for vigorous testing and "lever pulling" and the actual MP build hasn't even been fully approved just yet.
"If everything goes according to plan, our first flight for Halo: Reach on MCC PC will be next week to a small subsection of registered Halo Insiders. We're starting more modestly because we've got quite a few levers to pull and we want to ensure our delivery pipeline runs smoothly, our communications are clear, and that participants can properly provide their feedback on the build. Since there are so many pieces and levers that need testing, verification, and appropriate approvals, we need to take our time to ensure we're sending out a quality flight to our Halo Insiders.

"The team has a build which appears to be a strong candidate, but it's still in the middle of going through the test process as I type (and as you read). That said, we're still targeting to release next week and will be sharing the details with the public, so even if you aren't selected for the flight, you'll know what's happening. Stay tuned for more details throughout!"
You'll need to sign up as a Halo Insider to get in. Only the public campaign demo access is guaranteed as an insider. 343i hand picks all candidates for its multiplayer flighting program.
We're not sure if 343i still plans to release the entire Master Chief Collection on PC (including Steam) this year or not. Things are looking a big dicey right now and the game will probably miss its projected launch. Reach is the first of six games to be ported to PC and it's actual closed beta testing hasn't begun yet.
The studio affirms that MCC on PC will include everything gamers expect from the platform, including full mouse and keyboard support, high-end GPU and CPU optimizations, 4K 60FPS+, uncapped frame rates, 21:9 UltraWide resolution, and much more.
The full Halo: Master Chief Collection will also be available on Xbox Game Pass for PC.
Related Tags