PlatinumGames' Director of ASTRAL CHAIN reveals game details
The director of the upcoming PlatinumGames title ASTRAL CHAIN has shined a light on some of the games features.

Published Thu, Jun 13 2019 4:00 AM CDT
|
Updated Tue, Nov 3 2020 11:48 AM CST
E3 2019 - Nintendo's E3 2019 Direct has finished and as excited as we are for the game line up, we are starting to get some details for a special title, PlatinumGames' ASTRAL CHAIN.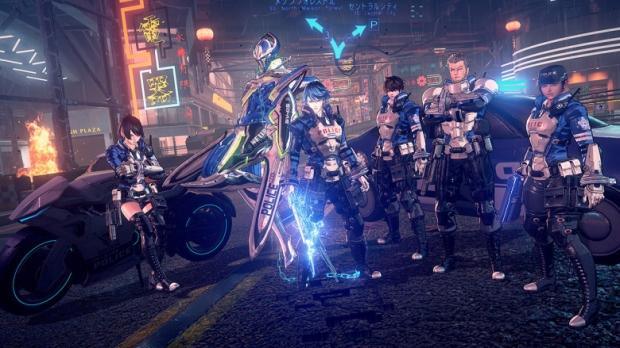 Players will take lead as one of the members of the Neuron Police special task force, who has been given the mission to investigate Red Matter and its ambivalent connection to the mysterious forces emerging from the Astral Plane. Players will be paired with the Legion to combat the foes from the Astral Plan, as the assistance from these beings will grant players the confidence to wholeheartedly attempt to save the human race from utter destruction.
During the Nintendo Treehouse livestream, Director of the title Takahisa Taura gave some details on what players can expect. To keep things simple, a dot point list has been compiled within the entirety of this article thanks to My Nintendo News. The release of ASTRAL CHAIN is also just around the corner on August 30th. The title will exclusively come to the Nintendo Switch. To check out the games trailer, visit this link here.
Your investigation starts at a place called The Ark - the most lively section of humankind - where you can speak to and initiate side quests from NPCs, pick up and dispose of Red Matter to gain extra Police Points, and progress through the main storyline.

Red Matter is a corrupt substance in Astral Chain, regular people who stand too near it will become corrupt and start to attack, but your character is able to withstand the effects due to your connection to the Astral Plane and Legion.

You can hack into cameras with your Legion and use them to analyse people to continue your mission.

In this segment, we were shown five different types of Legion; Sword, Arrow, Arm, Beast and Axe.

A Limiter Gauge is used in relation to your Legion, it decreases when your Legion is in use.

Players will have to switch between different Legions to defeat enemies and avoid attacks.

You can chain combos together and use Finishing Moves to increase your Limiter Gauge. Increasing the Limiter enables you to perform a Sync Attack (auto combo) with your Legion, this can be activated by pressing the attack button during a shine spark.

You can pull out the cores of enemies to refill your gauge.

You can chain jump.

You can perform perfect dodges to release sync attacks and build up your Limiter quicker.

There's a Skill Tree available for each Legion, which can be unlocked by gathering Gene Codes.

Active / Passive Skills can resemble one another, but some are entirely unique to that particular Legion.

You can summon multiple Legions at one time by unlocking and assigning a particular Skill.
Related Tags