World War Z update roadmap features new missions/zombie/mode
The update roadmap for World War Z has been released, more zombies, maps and modes on the way.

Published May 3, 2019 3:00 AM CDT
|
Updated Tue, Nov 3 2020 11:48 AM CST
The recently released Saber Interactive title World War Z has seen quite the popularity as of late, now the developer has issued out the DLC road map for the title to see if they can keep players engaged.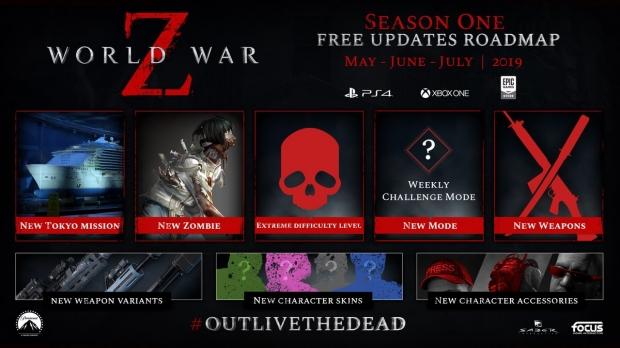 World War Z released back at the beginning of April and since then the title has pushed over 250,000 copies just on the Epic Games Store. Now totaling over 1 million copies sold across all platforms Saber Interactive is now working on trying to keep their playerbase stable with post-DLC content.
The roadmap has been released onto the World War Z Twitter account and shows that "In May, a brand-new mission set in Tokyo will drop alongside a terrifying zombie type that spits a deadly virus and can resurrect if not properly dispatched." Following May will be the June update that will bring a "new six-skull difficulty setting with a unique reward, as well as bonus cosmetics and more." July will feature a new "Weekly Challenge mode, plus additional cosmetics and other goodies." To go alongside these updates will be "wave-based survival mode, private lobbies, the ability to switch classes during PvPvZ matches, field of view (FOV) and level of detail sliders on PC, and more".
For further information regarding the coming updates and DLC content to World War Z, head on over to the official Focus Home Interactive website where the update road map has been detailed. A link can be found here.
Related Tags