The Outer Worlds isn't an open-world Ubisoft or EA game built around artificially-elongated playtime, and won't feature meticulous mechanics.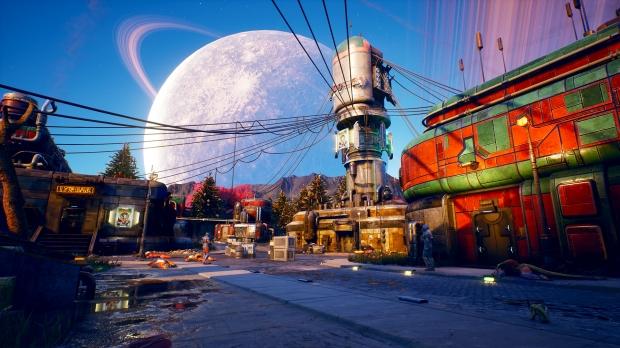 Not every game in the universe needs to have 100+ hour playtimes, nor do they need crafting. The amount of time that crafting and material gathering soaks up is ridiculous--looking at you, Dragon Age: Inquisition--and it's often just plain tedious. And in some games, like Fallout 76, it can be outright hell. Thankfully Obsidian isn't taking this approach with their new Fallout-meets-BioShock singleplayer RPG.
Despite having frustrated PC gamers by skipping Steam, The Outer Worlds is a breath of fresh air. It's a kind of AA experience that wants to re-kindle the fire of singleplayer gaming with choice-driven RPG mechanics and a meaningful if not quirky story. Take-Two usually loves engagement, but its Private Division label is all about games doing more with less, and that often means cutting out unnecessary features like crafting.
In a recent interview with US Gamer, Obsidian lead designer Charles Staples confirmed The Outer Worlds won't have crafting for a number of reasons. One big one was the studio didn't want to disrupt the theme of interstellar capitalism.
"One of the reasons we sort of shied away from [crafting] was all the corporate branding that we had. We felt like doing a lot of your own crafting sort of took away from one of those themes that we were trying to hammer on quite a bit and get across," Staples said.
Early on, Obsidian teased The Outer Worlds with fictional brands that sold everything from beauty aids, food, and space-age rayguns. These brands sort of harken back to Borderlands in a way, and anchor the player in a universe run by mega-corporations.
"So if the players were doing just a lot of making their own things, it sort of lessened that message that we were trying to talk about. But we still want to allow a little bit of customization. We support that through modding weapons and armor."
Another major reason was the game's budget. The Outer Worlds is being made on a smaller budget than AAA games (Obsidian might not be indie any more after being bought by Microsoft, but The Outer Worlds is from a previous deal made with Take-Two's new Private Division label) and the team had to be quite creative in how they used their funding.
Some features got scrapped, and some stayed in. This is always the case in game development, but it's worth mentioning that The Outer Worlds isn't open-world by design. This is also quite refreshing.
Everything we've seen so far makes The Outer Worlds look pretty good, and I hope the game gets post-launch mod support when it releases on PS4, Xbox One, and the Epic Store in 2019. Check below for more info:
"The Outer Worlds is a new single-player first-person sci-fi RPG from Obsidian Entertainment and Private Division. Lost in transit while on a colonist ship bound for the furthest edge of the galaxy, you awake decades later only to find yourself in the midst of a deep conspiracy threatening to destroy the Halcyon colony.

"As you explore the furthest reaches of space and encounter various factions, all vying for power, the character you decide to become will determine how this player-driven story unfolds. In the corporate equation for the colony, you are the unplanned variable."

Key Features

The player-driven story RPG: In keeping with the Obsidian tradition, how you approach The Outer Worlds is up to you. Your choices affect not only the way the story develops; but your character build, companion stories, and end game scenarios.

You can be flawed, in a good way: New to The Outer Worlds is the idea of flaws. A compelling hero is made by the flaws they carry with them. While playing The Outer Worlds, the game tracks your experience to find what you aren't particularly good at. Keep getting attacked by Raptidons? Taking the Raptiphobia flaw gives you a debuff when confronting the vicious creatures, but rewards you with an additional character perk immediately. This optional approach to the game helps you build the character you want while exploring Halcyon.

Lead your companions: During your journey through the furthest colony, you will meet a host of characters who will want to join your crew. Armed with unique abilities, these companions all have their own missions, motivations, and ideals. It's up to you to help them achieve their goals, or turn them to your own ends.

Explore the corporate colony: Halcyon is a colony at the edge of the galaxy owned and operated by a corporate board. They control everything... except for the alien monsters left behind when the terraforming of the colony's two planets didn't exactly go according to plan. Find your ship, build your crew, and explore the settlements, space stations, and other intriguing locations throughout Halcyon.