We learned back in the Super Smash Bros. Ultimate themed Nintendo Direct that players who pre-ordered Smash Ultimate would receive a completely free fighter. To everyones surprise this fighter was Piranha Plant, but when is the release going to be?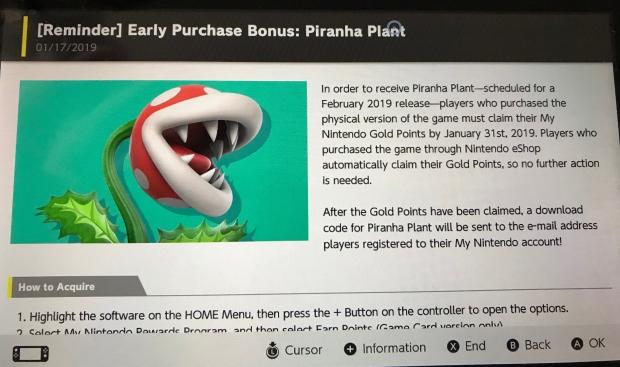 Originally, the many players that pre-ordered a copy of Smash Ultimate received an email with their download code if they grabbed the physical edition of the game. The email came with a short description of when to expect Piranha Plant to join the completed roster, the email read "Thank you for purchasing Super Smash Bros. Ultimate. As a bonus for purchasing the game early, we are sending you a download code for the new fighter: Piranha Plant, which will be playable from around February 2019."
It should be noticed that the email clearly states that Piranha Plant will be released sometime "around February" which isn't a very accurate release date. Nintendo have now released a reminder to everyone on the 'news' section of Smash Ultimate, the above screenshot has been provided by our friends at Destructoid. From the screenshot we can see that Nintendo say that Piranha Plant is "scheduled for a February 2019 release", confirming that Piranha Plant will be released sometime through the month of February.