Metro Exodus' story is built on hope and struggle
Metro Exodus gets a new story trailer that reveals the post-apocalyptic shooter's key themes and plotlines.

Published Tue, Jan 8 2019 6:34 PM CST
|
Updated Tue, Nov 3 2020 11:49 AM CST
New Metro Exodus footage sets the stage for an epic tale of brutality, war, and hope, all wrapped up in enthralling gameplay.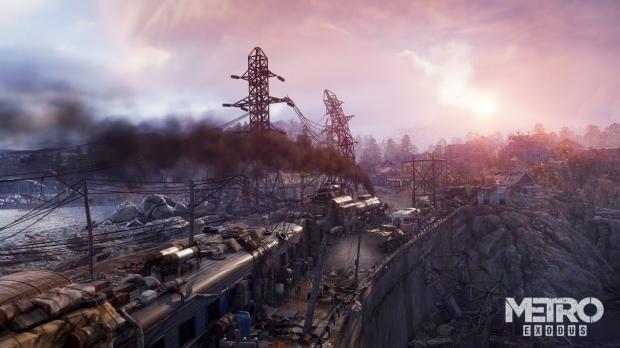 At its core, Metro Exodus seems to be a story about hope. Beset with impossible odds of survival in a blasted, ruined hellscape of a world, Artyom and his crew of rangers have survived by living underground for decades. After the bombs went off and turned the world into a nuclear holocaust, man was forced to subterranean depths to live among the shadows. But there was always tales of a place beyond the Metro that wasn't scorched, a place of sunlight and warmth and flowing breezes. This is where Exodus' story begins--as a literal exodus from the dark and into the light. Even if it's not a utopia, it has to beat the sunken tunnel-cities in the dark.
The new story trailer illustrates as much and really drives home themes of hope and struggle. Getting out of the Metro was just the beginning and Artyom's problems escalate further as more factions and warring tribes fight bloody wars on the sun-lit surface. The game itself is set up to highlight these themes, especially with the dynamic weather cycles that change from region to region and day-to-night time schemes bringing new life (and death) to each part of the expansive Russian game world.
"Narrated from the perspective of Anna, the Spartan Order's top sniper and Artyom's wife, the Story Trailer explores the hostile world of Metro Exodus that lies in wait for the crew of the Aurora as they flee the ruins of Moscow and embark on an epic year-long journey into the unknown. Artyom always believed that there was life beyond the Metro - now his hopes and dreams will be put to the ultimate test in the crucible of the Russian wastelands."
It's not all just beauty and thematics, though: 4A Games is optimizing Metro Exodus for PC and will leverage real-time raytracing tech powered by NVIDIA's new GeForce RTX cards.
The game will release on February 15, 2019 on PS4, Xbox One and PC.
The year is 2036. A quarter-century after nuclear war devastated the earth, a few thousand survivors still cling to existence beneath the ruins of Moscow, in the tunnels of the Metro. But now, as Artyom, you must flee the Metro and lead a band of Spartan Rangers on an incredible, continent-spanning journey across post-apocalyptic Russia in search of a new life in the East.

Metro Exodus is an epic, story-driven first-person shooter from 4A Games that blends deadly combat and stealth with exploration and survival horror in one of the most immersive game worlds ever created. Explore the Russian wilderness across vast, non-linear levels and follow a thrilling story-line that spans an entire year through spring, summer and autumn to the depths of nuclear winter.
Related Tags