Beyond Good and Evil 2 is online-only
Ubisoft's big new space opera requires an internet connection to play...not that it should be a surprise.
Published Dec 23, 2018 1:11 AM CST
|
Updated Tue, Nov 3 2020 11:49 AM CST
1 minute & 59 seconds read time
Beyond Good and Evil 2 is an online-only game that fits perfectly into Ubisoft's digital-focused engagement strategy.
BG&E2 is Ubisoft's biggest game to date. It's a sprawling, galactic RPG with action-driven combat that brings a sense of interstellar anarchy by blending Grand Theft Auto's anti-authority vehicular chaos with No Man's Sky's massive scope. Everything we've seen about the co-op game indicates it'll be a strong pillar in Ubisoft's growing games-as-a-service business model, so it's no surprise that it'll require a persistent internet connection to play
You'll need to be online whether you play singleplayer or with a friend or friends in co-op, Ubisoft confirms. This is par for the course when it comes to live games as it gives developers real-time access to valuable metrics and arms them with the power to continually tweak, modify, and balance the game world with patches. This also of course means it'll be monetized in some way, and we're curious what the game's microtransactions will be like.
"Beyond Good and Evil 2 is an online, multiplayer game with a rich co-op and seamless experience. As such, the game will only be playable with an internet connection in order to have seamless navigation, receive dynamic updates, and play with friends (which is certainly better when you're playing as a Space Pirate!)," Ubisoft wrote in a recent Q&A update.
"The choice to play co-op, however, remains yours to make, so playing BGE2 solo is absolutely possible if you're into that lone Space Pirate kinda thing..."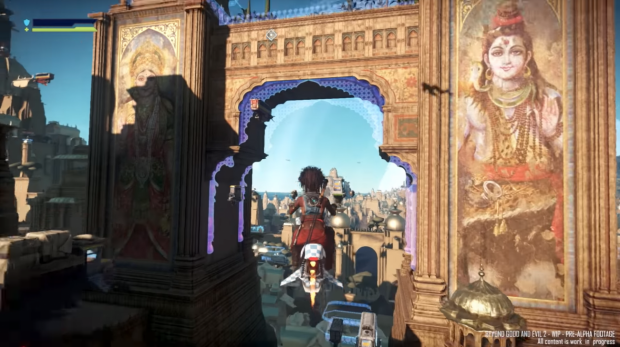 Read more: Beyond Good and Evil 2 is all about being a space pirate
The devs also talk about the new Voyager engine and how it's opening up the massive game world. The engine allows players to be across the ends of System 3 and still play together.
"Technically, there's absolutely no limit to the distance between different players in the game, and that was made possible thanks to our engine, Voyager."
The wildly ambitious online action RPG still doesn't have a release date and probably won't for quite some time. If I had to guess, I'd say Ubisoft is targeting a 2020 or 2021 launch for the game, likely to coincide with next-generation consoles like the PlayStation 5 and Xbox Scarlett family of systems.
Related Tags