RTS title 'Conan Unconquered' announced for PC on Steam
Studio behind Star Wars: Empire at War announces Conan real-time strategy game for PC.
Published Dec 10, 2018 3:00 AM CST
|
Updated Tue, Nov 3 2020 11:50 AM CST
2 minutes & 37 seconds read time
Petroglyph, the developers behind Star Wars: Empire at War and Command & Conquer have announced a new real-time strategy title, introducing 'Conan Unconquered' the Steam listing is now live.
The above video has been released onto publisher Funcom's YouTube Channel and features a cinematic experience that coincides with the titles Steam listing gameplay screenshots. According to the description found on the Steam listing, Conan Unconquered is the first strategy game set in the barbaric world of Conan the Barbarian.
Players that decide to jump into the world of Conan the Barbarian will be defending against the "savage hordes of Hyboria". Interestingly enough, Conan Unconquered offers a truly unique experience to the real-time strategy genre of games, players have the option of enjoying the title through a singleplayer experience but also can play co-op. When choosing to play co-op with a friend, both players will be able to construct new buildings, generate units and everything that a player can do in single-player mode. As a big real-time strategy fan, I can say that I'm very excited at what Petroglyph has in store for us. Conan Unconquered is planned for release during Q2 of 2019. For more information regarding the title visit the official Steam listing here. Within the entirety of this post you will find a more detailed description of the coming game.
STAND AGAINST THE HORDE
Battle wave after wave of increasingly more difficult enemies coming to destroy your stronghold, from lowly footmen to experienced elites and mighty siege weapons. Giant snakes and scorpions, spearmen, necromancers, and flying demons will arrive in vast numbers to see your home burn to the ground.
BUILD AN UNCONQUERABLE STRONGHOLD
Manage resources such as food, gold, wood, and iron to fuel your expanding stronghold. Construct a variety of different buildings from housing to temples and military barracks. Build defensive walls around your stronghold and equip them with traps such as oil cauldrons to keep attackers at bay.
TWO-PLAYER CO-OP MULTIPLAYER
Play together online and build a shared stronghold while fending off the enemy hordes. Both players can build structures freely, and research upgrades, walls, and structures are all shared allowing for a truly unique and cooperative multiplayer experience.
UNLOCK LEGENDARY HEROES
Heroes are incredibly powerful units that can greatly influence the outcome of battles. These heroes, including Conan himself, possess special abilities and you can equip them with unique artifacts that you find as you explore the world.
ASSEMBLE AN UNCONQUERABLE ARMY
You may start out with only a few foot soldiers, but before long you will have amassed an epic army of heavy cavalry, sorcerers, and more, ready at your command. Train units and keep them fed and paid to see their power grow and become truly unconquerable.
SURVIVE DISEASE, FIRE, AND DEATH
The world of Conan the Barbarian is one of blood, battle, and savagery. As your soldiers and those of your enemy die on the battlefield, their bodies will be left to rot and spread disease that can quickly turn the tide of war. Of course, a necromancer might be able to turn that to their advantage.
EXPLORE THE ENVIRONMENT
Randomly generated maps allow for infinite re-playability and each map holds vast opportunities for players that dare to explore beyond their stronghold. Discover ruins hiding great treasures, but beware: these are often protected by massive guardians that you need to bring down to claim your loot.
CALL UPON THE GODS
Build a temple and dedicate your stronghold to Mitra. Summon their massive avatar that towers above the battlefield and crushes your enemies in its footsteps.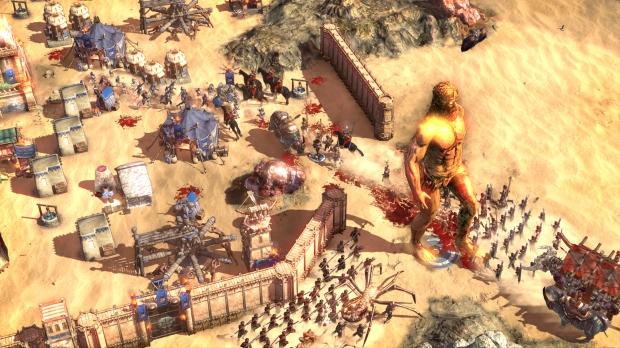 Related Tags