Why Kirby survives in Smash Bros. Ultimate 'World of Light'
Masahiro Sakurai has explained the choice of Kirby to surviving in Super Smash Bros. Ultimate's Adventure Mode 'World of Light'

Published Thu, Nov 29 2018 3:00 AM CST
|
Updated Tue, Nov 3 2020 11:50 AM CST
After we saw the official Adventure Mode 'World of Light' trailer released for Super Smash Bros. Ultimate, questions arose to why Kirby was chosen to survive Galeem. Smash Bros director, Masahiro Sakurai has given an explanation why.
Before jumping into the reasons why Kirby survived, if you haven't watched the World of Light trailer for Smash Ultimate check that out here and then return to this article. Jumping into the explanation now, Sakurai says that the reason for Kirby's survival is not because he was the original creator of the serious, but because from a game design perspective Kirby was simply the best choice for the role. Sakurai further explains why Kirby was chosen and the decision revolves around his Warp Star being able to defy physics.
"We needed a solid, convincing reason for why said character could outrun Galeem. All fighters possessing 'normal' abilities were immediately disqualified. Given that its assault enveloped the ends of the galaxy, only a vehicle that could defy the laws of physics would work. Even short-distance teleportation wouldn't be enough." Sakurai continues and says "Some of you may have forgotten, but Kirby's Warp Star has been able to, you know, warp since his very first game. That alone made him a pretty solid contender. The only other two fighters that could have survived would have been Bayonetta or Palutena. That said, Bayonetta's enemies from Purgatorio (a hellish other world) were turned into Spirits, so it wouldn't have made sense for her to escape. Other divine beings like Hades were also turned into Spirits, so there was no way Palutena could have survived, too."
Sakurai also mentions that the fighters difficulty was also taken into account, he says that using characters that also could of escaped Galeems wrath such as Bayonetta or Palutena would not of been beneficial to beginner level players. "Plus, it would have been difficult to use Bayonetta or Palutena as the starting character. The first character players try has to be simple and easy to use. As you may have seen in The Smashing Life, Kirby was voted as the character they should play first. I really had no other choice than Kirby." Super Smash Bros. Ultimate will be releasing exclusively on the Nintendo Switch on December 7th.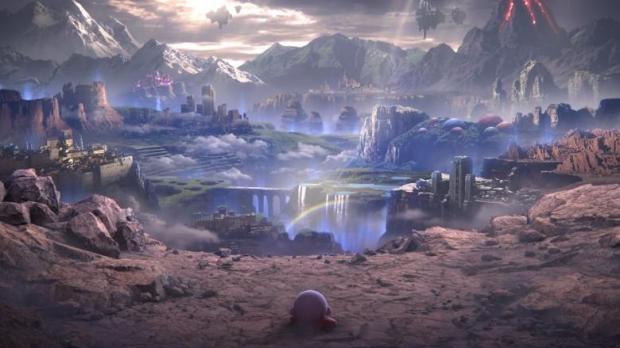 Related Tags