Super Smash Bros. Ultimate: Spirit Mode/Adventure Mode info
Nintendo has announced a Spirits and Adventure Mode for Super Smash Bros. Ultimate, here a breakdown of each of the modes.
Published
4 minute read time
Rumors of a Sprits Mode/Adventure Mode has been floating around the web since we got that image back in August that showed us the outline of the game mode on the home screen. Now that the game mode has been officially announced, it deserves a breakdown doesn't it?
Firstly, props to GameXplain for providing the above excerpt video from the Smash Direct. In the Spirits Mode, many famous video game characters have lost their physical forms and become what is known to be "spirits." These spirits will serve as a sort of power-up for fighters as each of the spirits can add additional attributes such as strength, speed or durability. Here is the official Nintendo definition for Spirits Mode "Equipping a spirit is similar to equipping a charm or accessory in an RPG. It's a way for players to enjoy a massive amount of additional video game characters outside of selecting them as playable fighters."
Throughout the Smash Direct, Nintendo also surprised fans with a trip down nostalgia lane by showcasing a story mode for Smash Ultimate. The mode is titled "World of Light" and according to Sakurai, the Director Super Smash Bros., World of Light will not be anything like the Subspace Emissay which was present in Super Smash Bros. Brawl. This new mode will concentrate more on having fun rather than story. World of Light has barely any details at the moment but from the video located in the entirety of this post we can see Master Hands coming down and beating the roster, with only Kirby barely managing to escape.
Nintendo official description on Spirits Mode:
"In the world of Super Smash Bros. Ultimate, many video game characters lose their forms and become "spirits" that serve as a power-up of sorts for a player's main playable fighter. There is a massive number of wildly different spirits, ranging from Chibi-Robo to Dr. Wily to Tails to Revolver Ocelot. Players can equip primary and support spirits to power up or add additional abilities like speed or strength to their fighter during battles. Mixing and matching spirits will help players get the upper hand against certain opponents, adding quite a bit of strategy to battles. Equipping a spirit is similar to equipping a charm or accessory in an RPG. It's a way for players to enjoy a massive amount of additional video game characters outside of selecting them as playable fighters."
Spirit Battles: The main way to acquire spirits is to win Spirit Battles. After winning a Spirit Battle, players will have to complete a roulette challenge to acquire that spirit.

Leveling Up Spirits: By battling with spirits by their side, players can level up spirits, giving them extra power and sometimes unlocking enhanced forms. The more leveled up and trained spirits are, the more powerful and useful they are.

Spirit Combinations: With an insane amount of spirits in Super Smash Bros. Ultimate, thousands of combinations can be formed. Players will be constantly surprised and excited by all the spirits that pop up in the game. Because players might collect an abundance of spirits, the game will offer recommendations for primary and support spirits, making the selection process a little bit easier.
While browsing and researching into these modes, I came across a comment by RustyHound on the GameXplain video. I personally subscribe to what Rusty is saying about the symbolism we may see throughout World of Light. The comment is located below, do you think there is any symbolic value to this?
"Suprised there isn't much talking about the symbolism in this story mode.
The spirits all want to become fighters so that they will become toys that keep their bodies in the real-world.
In other words. They desperately wanna get added to the Smash roster by any means necessary.
Now the interesting thing are the master hands at the very beginning. As we all know the master hand represents a kid playing with his toys, an allegory for you as the player, living out your imagination.
However, we see here that there's not just one master hand, but a plethora of them. Representing us players as a whole. The Smash community.
And they are helping the spirits take over the roster.
The Smash fighters have to be prepared to fight them off or run the risk of getting possessed and potentially replaced by the spirit.
Something that reflects the actual real-world situation with the Smash Bros Franchise.
We as players, all have our favourite characters that we wanna see make it into the game. But this cannot happen without sacrificing the current roster as it is now. Remember this will likely be the only time we see the roaster with every previous fighter here.
For spirits to become their own fighter, it will require getting rid of some of the current fighters. And this will be done through the master hands (us the fanbase) eliminating current fighters. Allowing new spirits to corrupt them and take their place.
In doing so. They will in fact, quite literally have made it into the real-world by becoming toys (being made into a Smash Amibo). Thus accomplishing their goals.
The characters will then, once again need to stand their ground and fight back against the fleet of master hands. If they wanna earn their place in staying as a Smash character.
Sakurai has in the past expressed the struggles he faces through his art form when developing his games. And I believe this reflects the most relevant pressures and stress he goes through when working on this game in particular."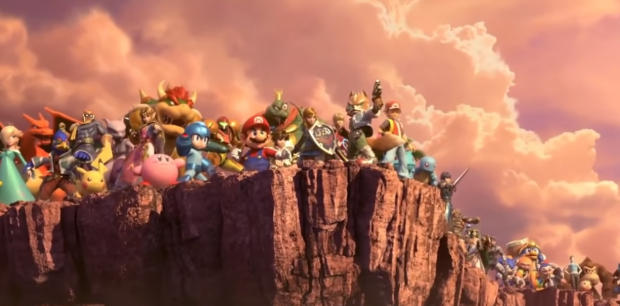 Related Tags