AMD only just announced its next-gen EPYC 'Rome' CPU last week in San Francisco during its Next Horizon event, with the new EPYC Rome CPU packing a huge 64C/128T of processor performance on the next-gen 7nm process node.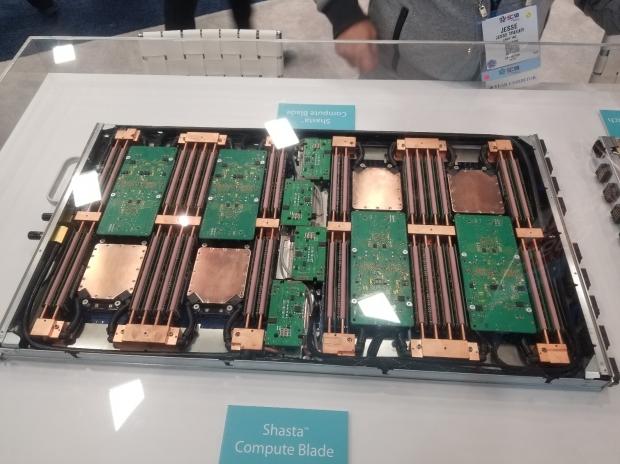 But during the Supercomputing 2018 event, the US Department of Energy announced it was working with Cray on their new Shasta Computer Blade server which will be inside of the US DoE's upcoming new supercomputer.
This new supercomputer will pack 8 of AMD's next-gen EPYC Milan CPUs on the even newer 7nm+ node, with the system broken into dual-section design with one feature copper water blocks on the EPYC Milan CPUs, while the other four EPYC Milan CPUs are on an inverted PCB, which is also water cooled. The new supercomputer will feature 64 DIMMs that can be watercooled, too.
The big point here is that AMD's new EPYC Milan CPU will be the first using the new Zen 3 architecture, as well as the fresher 7nm+ node from TSMC. We could expect more than 64C/128T on the EPYC Milan CPU, but where will the ceiling be? I don't think we'll see the leap to 128C/256T right away, but can you even image that? It would be an incredible CPU to fight Intel.
DOE's National Energy Research Scientific Computing Center is working on the pre-exascale system 'Perlmutter' that will arrive in 2020, and pack NVIDIA's Tesla GPUs in the form of 4x NVIDIA 'Volta-next' GPUs on the 7nm node, 32GB HBM2, and NVLink multi-GPU connect. Perlmutter is expected to pack 3x the computational power than the current Cori supercomputer at NERSC.
Perlmutter will feature all-flash storage that will handle 4TB/sec of sustained bandwidth, 7 million IOPs, and 30PT of usable memory. All I want to know is: will it run Crysis? But seriously, it will be used for large-scale simulations, data analysis of experimental facilities.