Bungie is satisfied with Destiny 2 even if Activision isn't
Bungie approves of Destiny 2's success so far, even if Activision isn't so impressed.

Published Mon, Nov 12 2018 4:18 PM CST
|
Updated Tue, Nov 3 2020 11:50 AM CST
Bungie approves of Destiny 2's evolution so far, even if Activision isn't so happy with the game's results.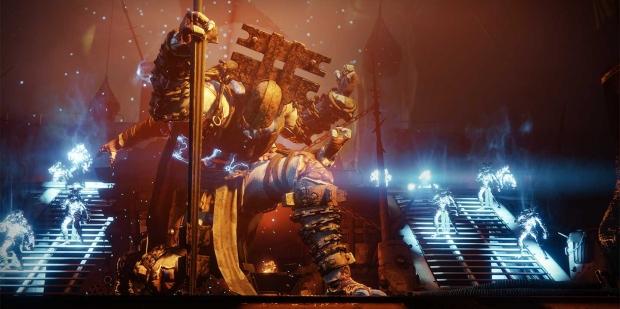 Activision's expectations are quite high, and for good reason. The company routinely earns billions from its games every quarter, all of which are monetized with live service hooks. This trend has taught shareholders and execs to expect certain results from live games. But Destiny 2's Forsaken expansion hasn't managed to meet the publisher's revenue targets (which are probably quite steep), likely due to the game's bizarre and often frustrating business model. Despite Activision's disappointment, Bungie remains hopeful and optimistic about Destiny 2 and the franchise as a whole.
"We are not disappointed with Forsaken. We set out to build a game that Destiny players would love, and at Bungie, we love it too," Destiny 2 director Luke Smith said on Twitter.
"Building Destiny for players who love it is and will remain our focus going forward."
This underlines a disconnect between Bungie and Activision. According to Kotaku's Jason Schreier, who's chronicled the Destiny series' strange development, relations between Bungie and the publisher have been strained even before the first game.
Reports indicate Activision dramatically changed Destiny 1's story arc and forced Bungie to re-write everything and start from scratch. Hence the dizzying and baffling original storyline.
It's also possible the game's aggravating business model was designed by Activision, and Forsaken's disappointment could be an indicator of things to come.
At the same time, though, Activision has sunk tremendous resources and costs into Destiny. Bungie reportedly received $100 million across 10 years to develop the Destiny series, and engagement--Activision's bread and butter--seems to have fallen off. Mass-market appeal has dwindled and Destiny 2's Forsaken expansion apparently didn't re-engage everyone who bought the original game back when it launched in 2017.
Here's what Activision had to say about Destiny 2's disappointing results:
"While Forsaken is a high-quality expansion with strong engagement and new modes of play, it did not achieve our commercial expectations. There's still work to do to re-engage the core Destiny fanbase," Activision Chief Operating Officer Coddy Johnson said during the company's Calendar Year Q2 earnings call.
"At BlizzCon, we announced that Destiny, the base game is free for two weeks, meaning download it by November 18, and you get to keep the base game forever. We did that because we want the whole community loaded up and able to play it, but also because it's a live game. And once you're in it, with the ongoing features and services and content, there's really deep engagement that takes place.
"And part of it was also because we have not yet seen the full core reengage in Destiny, which has led to the underperformance against our expectations to date. Some players we think are still in wait-and-see mode. So when you're in, you're deeply engaged. If you're not, we're hoping now is the time to work and to bring players back in and to win them back."
Bungie will undoubtedly to the best they can under the circumstances (like any game developer with publisher overlords). Activision has a commitment to return cash to investors and make profits above all else, so we may see more monetization options worm their greedy way into Destiny 2...especially if sales are underperforming.
I'm just curious how much longer this can go on. Monetize your core audience too much and you could alienate them completely, thus spelling doom for your service game.
Related Tags