AMD is reportedly preparing a 'new' Radeon RX 590 which seems to be imminent, with our first look at a branded card being in the form of the ASUS ROG Strix Radeon RX 590 graphics card, and now a new one from PowerColor.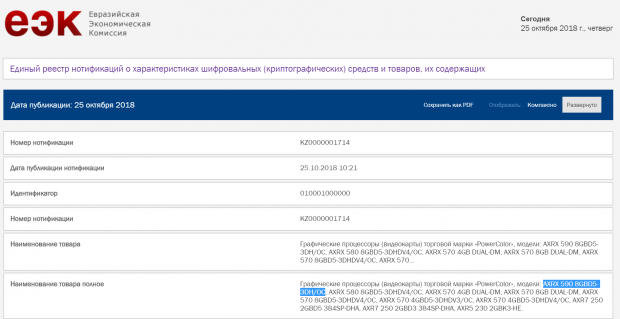 PowerColor's purported Radeon RX 590 Red Devil has hit the Eurasian Economic Union certficate office, with a new product listing for the RX 590 Red Devil graphics card. The product listing is: AXRX 590 8GBD5-3DH/OC. This is virtually identical to the product listing for the RX 580 Red Devil 8GB GDDR5 which is AXRX 580 8GBD5-3DH/OC.
If this information is correct, the Radeon RX 590 is indeed a refresh of a refresh of a refresh with the Polaris 30 GPU reportedly powering the RX 590, while the RX 580 used the Polaris 20 GPU and the Polaris 10 GPU debuted with the Radeon RX 480.