Xbox Game Pass coming to PC eventually
Well of course it is...Xbox is a service now, after all.

Published Thu, Oct 25 2018 3:24 PM CDT
|
Updated Tue, Nov 3 2020 11:50 AM CST
Predictably enough, Microsoft will bring its massively popular Xbox Game Pass subscription to PC at some point in the future. This means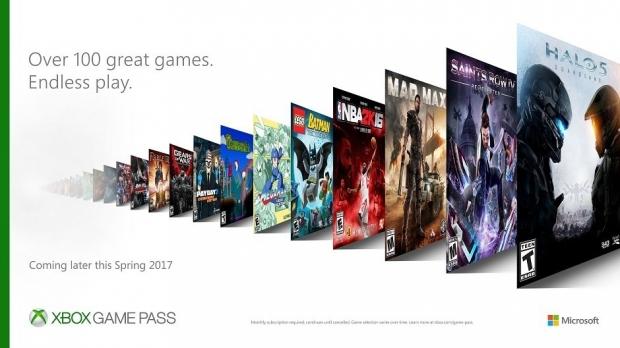 As soon as the $9.99 a month Xbox Game Pass subscription was announced, I had a feeling it'd come to Windows 10 PCs at some point. After all, Xbox is now a cross-platform brand that bridges PCs, Xbox One consoles, and soon with Project xCloud, mobile devices. Let's also not forget Microsoft's love for monetizing its services (which is best handled by bringing said services to more places players spend money). All the signs were there and Microsoft's business plan clearly spelled out Game Pass' transition to PC.
We've had rumblings in the past about Game Pass arriving on PC, and now Microsoft CEO Satya Nadella continues the dialog. In Microsoft's Fiscal Q1'19 earnings, Nadella spoke about Xbox gaming, services, monetization, and how Game Pass' arrival on PC will strengthen the core Xbox community.
"...we are going to make sure that we keep increasing the strength of the community. You see that already with Minecraft going to all platforms and that increasing the intensity of the community and you'll see us do more of that. Obviously, bringing Game Pass to even the PC is going to be a big element of that," Nadella said in the call.
Read more: Xbox Game Pass will compliment, not overtake, Xbox business
The interesting thing about Game Pass is that the subscription actually sparks full game sales. There's a kind of unique synergy between Game Pass and Xbox LIVE game sales: gamers can try Game Pass for $10 and get access to a huge library of games, and then just buy the ones they like. The service can essentially be used as a rental system of sorts--one that makes Microsoft a nice bevy of cash.
The other implication here is that Microsoft's first-party games will all arrive on PC via Game Pass.
The company announced that most (if not all) of its future marquee first-party games will be included on Game Pass at launch. This was (and will continue to be) a absolutely huge home field advantage that likely saw a rapid influx of subscribers.
Microsoft is making a boon from its Xbox brand. While Xbox gaming only makes a small portion of total company earnings, gaming made $2.738 billion in Microsoft's first quarter earnings.
These earnings should only climb if Game Pass rolls out to PC.
Related Tags