Oculus Quest GPU, CPU power similar to Xbox 360 and PS3
New wireless Oculus Quest mirrors last-gen console power, can run experiences at 72 FPS.

Published Fri, Sep 28 2018 7:33 PM CDT
|
Updated Tue, Nov 3 2020 11:50 AM CST
Oculus' new all-in-one headset will be surprisingly versatile and powerful for gaming, company CTO John Carmack confirms.
Although the new Oculus Quest is a wireless, self-contained headset powered by a Qualcomm chip, the portable HMD is actually comparable to last-gen consoles in terms of CPU and GPU power. The conjunction of firmware utilities and tools alongside optimized hardware will theoretically allow the Quest to hit up to 72FPS in specific games and apps running at 1280x1280 resolution.
"In terms of raw processing power, there's lots of hedges and if buts when you're discussing different things, but Quest is in the neighborhood of the power of a previous gen like Xbox 360 and PS3. Now that's just in terms of CPU and GPU and what you can expect to do on it," Oculus' John Carmack said in a recent OC5 keynote speech.
Just because the Quest might be in the same borough of last-gen systems we shouldn't expect to see those kinds of AAA games run on the system, Carmack says.
"But the important thing to keep in mind is that most games on that generation rendered at 1280 by 720 resolution at 30 frames per second, and most of them didn't have very good anti-aliasing.
"While in VR, we're hoping that you can render at 1280 by 1280, twice for stereo, at 72 frames per second. That's 8.5 times the pixels than you'd have on an old 360 game. Plus you want to be at 4X MSAA and trilinear filtering.
"So it is not possible to take a game that was done at a high-quality level like a AAA title for that generation and expect it to look like in VR. It's too many more pixels to render."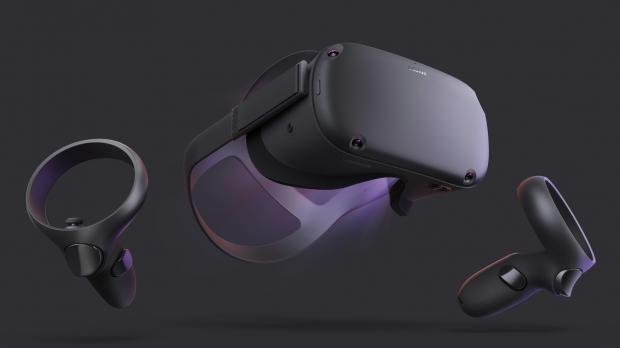 The headset, which aims at a mid-grade segment with its $199 price tag, will have more than 50 tailor-made VR games when it launches in Spring 2019--all of which will tap the system's processing power.
The Oculus Quest does have some advantages though. It's outfitted with more system memory which allows devs to pull of some nifty tricks:
"On the upside, we do have far more texture memory and far more main memory in general than you had on those platforms, so some of the development can be easier. In many instances you can change really rich textures for complex shaders," he said.
Finally Carmack makes a good argument that the Quest won't compete with big established consoles like Sony's PlayStation 4. Instead, the device will be more complimentary as a mobile-oriented device that sits alongside a consumer's current gaming hardware.
But if the Quest does take on a platform it'll be the Nintendo Switch.
"Realistically, we are going to wind up competing with the Nintendo Switch as a device. I don't think there's going to be that many people that say 'I'm not going to buy a PS4, I'm going to buy a Quest instead,'" Carmack finished.
The Oculus Quest releases Spring 2019 for $199. Here are a few more tidbits gleaned from Carmack's keynote speech:
Oculus Quest can run at 72 frames-per-second, but most games/apps will hit 60FPS

Uses Qualcomm 835 chipset

Foveated rendering was built in-house alongside Qualcomm, is up to 15% more efficient and enables 72FPS more often

Excellent heat mitigation, doesn't overheat easily
Related Tags