NVIDIA has launched its two higher-end RTX graphics cards with both the GeForce RTX 2080 and RTX 2080 Ti released, but the RTX 2080 Ti isn't being made available for another week or so for consumers. The company has now come out and announced an October 17 launch for its GeForce RTX 2070.
The upcoming GeForce RTX 2070 graphics card uses the Turing TU106 GPU, TU106 features 10.8 billion transistors, 2304 CUDA cores, 288 Tensor Cores, and 36 RT Cores. The transistor count on TU106 is much greater than its Pascal counterpart in the GP104, with the new TU106 GPU featuring 10.8 billion transistors versus the 7.2 billion inside of GP104.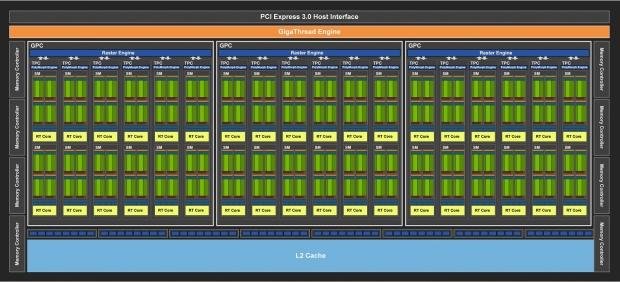 TU106 has 3 x GPCs, 36 SMs, and 8 x 32-bit memory controllers (for a 256-bit memory bus, the same as the RTX 2080). NVIDIA's new TU106G GPU sees each GPC with a raster unit and 6 x TPCs, with each TPC packing a PolyMorph Engine and 2 x SMs. Each of the SMs inside of TU106 will, like TU102 and TU104, feature the new RT Core for ray tracing. Each SM packs 64 CUDA cores, 256KB register file, 96KB L1 data cache/shared memory cache, and 4 x texture units.
NVIDIA is culling the NVLink connector from the GeForce RTX 2070, so you won't be hitting up multi-GPU rigs with TU106. It'll have worse performance than the GTX 1080 Ti, and I'm sure RTX performance will be radically slower than the RTX 2080 and flagship RTX 2080 Ti, so the RTX 2070 will be an interesting card. Both from a reviewing stand point, and from consumer reception.
We don't have long to see how it goes, and we'll be putting it through its paces the second it lands.