Bethesda isn't coy about Fallout 76: it's a live service game that's meant to be played for many years. But how long will it last? Hopefully the West Virginia apocalypse will be a gift that keeps on giving.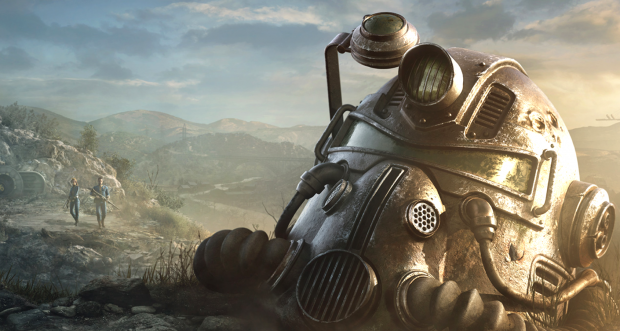 When publishers make an online-based game they hope it'll last forever and ever. Sure it takes lots of strategic planning and tweaking to keep players satisfied playing (and paying for) new content, either inadvertently via microtransactions or directly via subscriptions. Fallout 76 is no different in this regard. The online-only Fallout has been in development alongside Fallout 4 and represents a big leap for Bethesda Game Studios--for the first time the Fallout franchise will be truly alive and the studio will learn a ton from this experiment. And there's an even bigger opportunity to rake in cash to fund future big-budget games like Starfield and the distant Elder Scrolls VI.
Bethesda essentially wants to keep engaging players with new content in a more controlled-revenue environment. Rather than depending on mods to keep a game like, say, Skyrim alive, the studio wants to keep it alive themselves with new content while making recurring revenue in the process. The longer players are engaged, the longer the studio has an opportunity to make money after the initial sale. In short: Fallout 76 should last a long, long time.
In a recent interview with Metro, Bethesda's Pete Hines was asked how long Fallout 76's tail will be. Will it end after a year? Two years? Five? So [for] Fallout 76, our timeline is in perpetuity. I'm not being ironic. [We want it to last] like forever," he said.
Read more: Fallout 76 is a service game, can and will change over time
The studio's reasoning here is that gamers are still playing the likes of Morrowind, Fallout 4 and Skyrim--games that are many years old. So BGS could capture those players over and over with new content in Fallout 76. But there's just one problem: Fallout 76 won't have mod support at launch and it's not a closed type of singleplayer RPG, so it may lack certain types of depth found in previous games.
Hines goes on to stay Bethesda still needs to glean lots of data and feedback to successfully carry Fallout 76 into perpetuity. Although BGS will use tons of info learned by ZeniMax Online's Elder Scrolls Online, and is working with veterans seasoned with online games, this is still unfamiliar territory.
Things could get messy...and fast. The studio has to be ready to handle these problems as they arise and adapt on-the-fly, which it isn't necessarily used to doing.
But it's ready to try.
"Now what [Fallout 76's] content is gonna be, and what that's gonna look like, I'm not sure. Part of our thing is we need to get people in the game and see how they respond. We've even taken this approach for past DLC.
"I don't know if you remember Fallout 3? The big consumer reaction when we launched that game was that they were all upset that it had an ending. And we were like, 'All the previous games had an ending! We thought we were sticking to what that franchise is...' But they didn't want an ending and we had a couple of DLCs in the works but the third one we did we were like, 'Well, we need a DLC that removes the ending of the game and allows you to continue on.'"
Read more: Fallout 76's multiplayer is 'loose and fluid'
Right now Fallout 76 has all the trimmings for a major online-driven engagement game: a solid post-launch roadmap that's being internally plotted, monetization potential via cosmetic-only purchases, and the foundation of one of the most popular IPs in gaming. It'll be interesting to see how this pans out, and we'll be along for the ride every step of the way.
Fallout 76 launches on November 14, 2018 on PS4, Xbox One and PC.
Check below for more info about the game:
KEY FEATURES:

You will Emerge!

Multiplayer finally comes to the epic open world RPGs of Bethesda Game Studios. Create your character with the S.P.E.C.I.A.L system and forge your own path in a new and untamed wasteland with hundreds of locations. Whether you journey alone or with friends, a new and unique Fallout adventure awaits.

Mountain Splendorland!

All-new graphics, lighting and landscape technology brings to life six distinct West Virginia regions. From the forests of Appalachia to the noxious crimson expanses of the Cranberry Bog, each region offers its own risks and rewards. Post-nuclear America has never looked so beautiful!

A New American Dream!

Use the all-new Construction and Assembly Mobile Platform (C.A.M.P.) to build and craft anywhere in the world. Your C.A.M.P. will provide much-needed shelter, supplies, and safety. You can even set up shop to trade goods with other survivors. But beware, not everyone will be quite so neighborly.

The Power of the Atom!

Go it alone or with fellow survivors to unlock access to the ultimate weapon - Nuclear Missiles. This destruction also creates a high-level zone with rare and valuable resources. Do you protect or unleash the power of the atom? The choice is yours.

B.E.T.A. (Break-It Early Test Application) Access!