Nintendo just finished their livestream for the Direct and as per usual they left the Super Smash Bros. news to the very end, it was worth the wait though as Isabelle from the Animal Crossing series has been announced as a new comer to Smash Ultimate.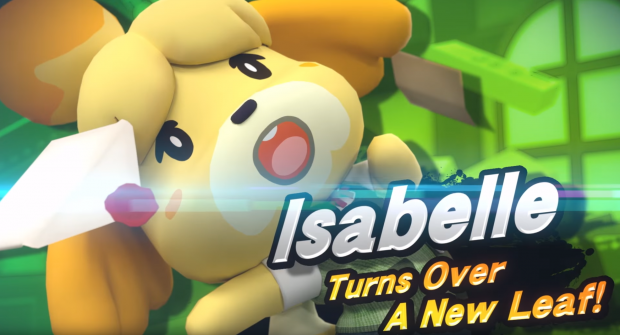 If you happened to miss the news about the Nintendo Direct being cancelled last week the live stream was delayed due to a large scale earthquake shaking Hokkaido, Japan. Luckily everything has now become stabilized and we are able to jump back into the Nintendo Direct everyone was waiting for. Looking closely to the end of the livestream, at 34:58 we are introduced to an Isabelle cut scene, as she is organizing an office she receives a letter that asks her to join the Super Smash Bros., she is quite shocked to say the least.
Looking towards Isabelles move set now, lets dive into what we have got. Keep in mind her moveset has not been officially confirmed in terms of which moves are which buttons etc. The following is my personal assumption based on the action of each of the moves and how Isabelle uses them. We have a dash attack that is almost identical to Villagers, a side smash attack very similar to Villagers up smash, a fishing rod grab that could be side B special, pom pom spin is a neutral A, down special is a gyroid mine, up special ballon swing much like Villagers ballons and down smash being the water she douses Falco with.
It appears that Isabelle is quite similar to that of Villager, this isn't surprising at all considering they come from the same game. From what we have seen so far, to get a good idea of how different Isabelle is to Villager we can size that up by drawing a comparison between Wolf and Fox. Both fighters have similar move sets, but play and feel completely differently, I'd expect the exact same from Isabelle and Villager. If you are after a bit of community discussion on the newly announced new comer, go over and check out the Super Smash Bros. sub reddit, a link can be found here. Super Smash Bros. Ultimate is planned for release on December 7th, exclusively for the Nintendo Switch, for more information visit the official Super Smash Bros. Ultimate website here.