Spyro Reignited Trilogy ships on 1 disc, other 2 titles DLC
Activision's Spyro Reignited Trilogy will be shipped on 1 disc, the two other games will require a DLC.

Published Thu, Aug 2 2018 1:00 AM CDT
|
Updated Tue, Nov 3 2020 11:51 AM CST
The Spyro Reignited Trilogy release date is moving closer and closer, ahead of the launch Activision has taken to their website to address how the three games will be arriving in players hands.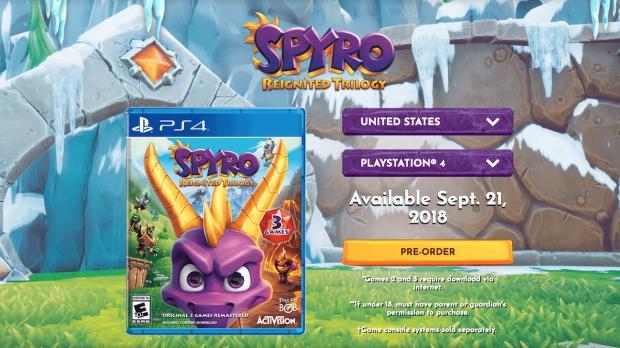 We last saw the Spyro Reignited Trilogy when 12 minutes of gorgeous gameplay was released onto PlayStation underground YouTube Channel. The video showcased the Spyro 2: Ripto's Rage! and the developers Toys for Bob discussed the lengths they have gone to recreate the magical world of Spyro.
Fans of the series that were hoping to receive three separate discs of their favorite Spyro games will now be disappointed, Activision has taken to their website to say "Games 2 and 3 require download via internet." This means that the Trilogy will be arriving on 1 disc with three quarters of all three titles within the disc and just a quick patch to clean everything up. Another possibility is that the one disc could just be containing the first game, and then the other two will come in the form of game codes.
Activision gave a statement to GameInformer about this matter, here is what they had to say "The global launch date of Spyro Reignited Trilogy is Sept. 21; and we're excited for fans to play all three reignited games on that day. As with most games today, downloading an update after purchase is quite common. The language on packaging and on the web is to let players know the requirements for Spyro Reignited Trilogy." Activision didn't really answer any questions here, so lets hope they clear up exactly what is going on in a future statement before the launch. For more information check out the official Spyro website here.
Related Tags