Overcooked 2's new trailer unveils pre-order bonuses
Team 17 have released a brand new trailer for Overcooked 2, it reveals the titles pre-order bonuses.

Published Fri, Jul 27 2018 1:00 AM CDT
|
Updated Tue, Nov 3 2020 11:51 AM CST
Team17 have released a brand new trailer for Overcooked 2, the trailer showcases what players will be receiving when they pre-order the new title.
The new trailer released onto the Team17 YouTube Channel reveals to players the bonuses that they will be receiving when they pre-order the next installment into the co-op cooking chaos. Players will be getting a "Kevin's Special" which is a little dog, the pre-order bonus will also include "Too Many Cooks" which will be five bonus chefs.
The new features that are within Overcooked 2 are the following: online multiplayer, the ability to throw, new level mechanics, dynamic levels, interactive world map, kitchens, recipes and chefs. Overcooked 2 will be arriving on August 8th, it will be coming to PS4, Xbox One, PS4 and Nintendo Switch. For further information about the title visit the Overcooked wesbite here.
What's new:
Online multiplayer: For the first time you can cook up a storm with up to four players in both local and online multiplayer!
Throwing: Throwing is now an official game mechanic, allowing you to toss ingredients to your fellow chefs or even straight into the pan/blender/onto the floor!
New level mechanics: Overcooked 2 sees the introduction of new game mechanics including moving walkways, controllable platforms and even portals!
Dynamic levels: Throwing you from the frying pan and into the fire, dynamic levels will change around you, offering a new challenge to overcome as the recipes and levels themselves change!
Interactive world map: As you drive, sail and soar your way around the map in the Onion King's amphibious air bus you will open up new areas using hidden buttons around the world!
Kitchens: From the neon lights of a sushi restaurant to the bubbling pots of a Wizard school kitchen, there are plenty of places to cook up a storm in Overcooked 2!
Recipes: From spaghetti to sushi and pancakes to pizza, recipes both old and new will need to be cooked to perfection (or at least not burnt to a crisp!) New recipes mean new ingredients and new equipment so even the most well-seasoned Overcooked players will be challenged!
Chefs: Overcooked 2 introduces a whole host of new of chefs to play in the kitchen including an eagle, mouse, beaver and what kitchen is complete without an octopus!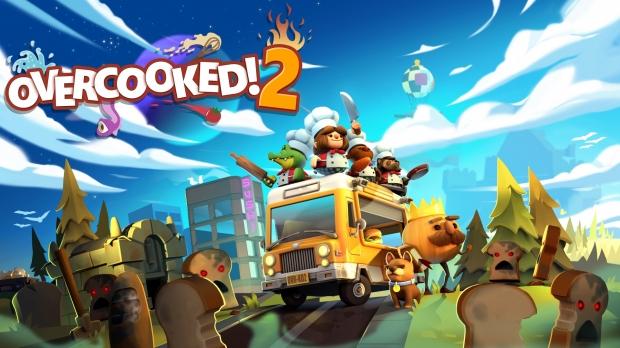 Related Tags