AMD Ryzen Threadripper 2990X simulated tests: 32C/64T beast!
AMD's new 32-core CPU will rip Intel a new Core.

Published Tue, Jul 17 2018 2:09 AM CDT
|
Updated Tue, Nov 3 2020 11:51 AM CST
AMD is set to unleash its 32C/64T processor into the HEDT market with the Ryzen Threadripper 2990X, but since it's not on the market right now what do we do? Look at some simulated CPU tests that tease what AMD has in store.
Legendary overclocker der8auer has used AMD's current EPYC 7601 processor overclocked to 3.4GHz, which is the purported base CPU clock of AMD's flagship Ryzen Threadripper 2990X, alongside 4 x DIMMs to simulate AMD's upcoming monster CPU.
The simulated test used a normal EPYC server system but with some modifications that include an upgrade PSU, with der8auer using a Seasonic platinum PSU and upgraded water chiller cooler.
The big difference here is that the full EPYC 7601 processor uses 8-channel DDR4, while the Ryzen Threadripper 2990X will only support 4-channel DDR4. The result change between 4-channel and 8-channel with 32 cores of CPU power is pretty damn incredible, with a huge change between Cinebench R15 results.
With the EPYC 7601 processor overclocked to 3.4GHz with 4-channel DDR4 resulted in a score of 3867, which isn't bad, but it's not representative of what Threadripper 2990X will provide. With all 8 DIMMs populated, the score skyrockets to a huge 5224, but remember that Cinebench is very memory dependant, so these scores will change a little with retail Threadripper 2990X.
Der8auer wouldn't be who he was without pushing EPYC 7601 a little harder, with the 32C/64T processor kicked up to 3.8GHz the Cinebench R15 results went up to 5863 points, scraping the back of 6000 points which is pretty damn insane.
Once AMD launches its new second-gen Ryzen Threadripper CPUs next month, we will begin to see just how powerful they are. Anyone who needs a lot of CPU cores is going to fall in love, as Intel has nothing to compete with Threadripper 2990X anywhere near the price ballpark. AMD should absolutely dominate Intel in price, which is where it will hurt Chipzilla the most.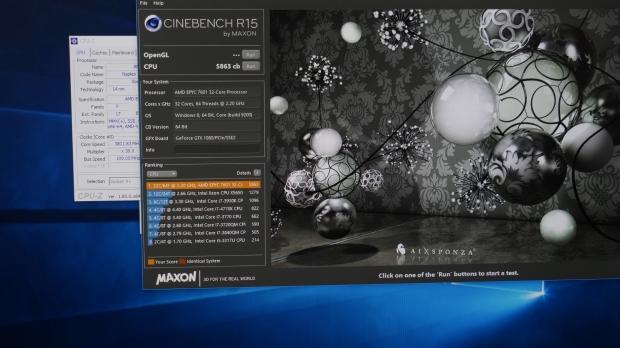 Related Tags