It was only yesterday that I wrote about Sony co-developing the Navi GPU architecture with AMD for its upcoming next-gen PS5 console, but what about the Navi GPU itself for the Radeon graphics market?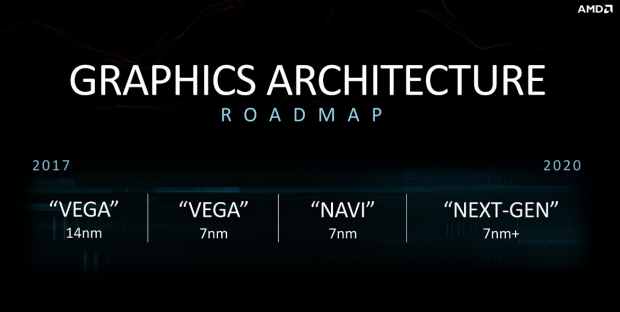 Well, the Radeon RX 680 according to my sources will be powered by the Navi GPU architecture and feature 8GB of GDDR6 memory, with the performance of the GTX 1080 to GTX 1080 Ti or so. We should expect a price of somewhere in the $299-$399 range, and will battle the GTX 1080 Ti at higher resolution games because of its faster GDDR6 RAM.
I talked to some industry sources over the last few months, and then some new ones at Computex 2018 that told me Navi wouldn't be here until at least half way through 2018. Another source said that it would not be that great, in the way that it will not be a successor to Radeon RX Vega at first, but rather the Radeon RX 680 powered by Navi 10.
AMD will strike back with Navi 20 on 7nm as a high-end GPU in the 2020-2021 timeframe, but in the meantime will have to hobble to market with a really good mid-range graphics card. The thing is, to AMD it won't be a mid-range graphics card based on Navi 10 will allow AMD to have a cheaper GDDR6-based graphics card that hits GTX 1080-1080 Ti levels at under $400.
Essentially, AMD is making Vega 64 great again by using Navi 10 on 7nm to provide similar performance, but cheaper as it won't need to use HBM2 with GDDR6 in its place.
NVIDIA at this time will have the GTX 11 series to market in a full stack, down to the GTX 1160 or whatever it arrives as, GTX 1165 possibly from what I'm hearing... led by the GTX 1185 or GTX 1190, two names that have passed me once. Could be total BS, but I'm just telling you what I'm hearing as it floats past me.