At the beginning of April we heard about Steam Link adding support for the Nintendo Switch Pro Controller, now we have official confirmation that Steam now supports the Switch controller.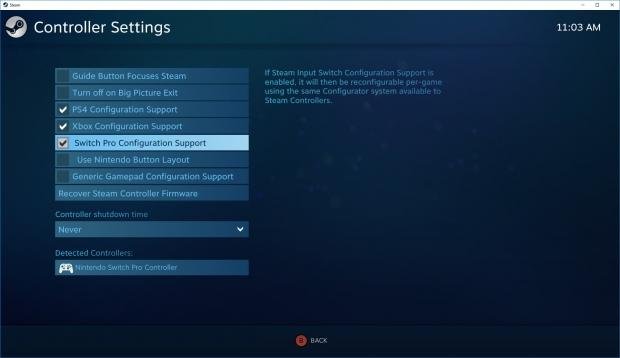 Valve has come out and said on a post on their news section "We're pleased to announce that the latest Steam Client Beta adds support for the Nintendo Switch Pro Controller. We think it is a great device with a feature set that pairs nicely with your Steam catalog. The d-pad is ideal for fighting games and platformers and the gyro enhances aim in your action/FPS titles. If you'd like to test it out you will need to opt into the Steam Client Beta then follow the steps below. We hope you enjoy and, as always, we welcome your feedback."
They also have provided users with a step-by-step tutorial on how to enter into the Steam Client Beta as well as the configuration steps to get your Nintendo Switch Pro Controller to work on Steam. "First, opt into the Steam Client Beta then enable support globally by checking the 'Nintendo Switch Configuration Support' option in the Controller Settings page. In case you missed it, this is the same page to enable PS4 and Xbox Configuration support. By checking this box, you are able to create, share, and browse Switch Pro Controller configs on a per-game basis. The Controller Settings page also contains a global option to 'Use Nintendo Button Layout'. This will swap the A/B and X/Y buttons of your loaded config - something that will come in handy if you choose a Steam Controller, Xbox, or standard template config."
For those interested in reading more on the Steam Input update visit the official Steam Community post here.