April's free Xbox LIVE Gold games are pretty great
Microsoft's free games lineup for April is pretty rad--so you shouldn't let your subscription lapse.

Published Thu, Mar 29 2018 6:23 PM CDT
|
Updated Tue, Nov 3 2020 11:52 AM CST
Xbox LIVE Gold subscribers are getting some pretty awesome free games in April, including Assassin's Creed: Syndicate.
While Sony had a fantastic free PS Plus lineup for January and February, Games With Gold smashes the competition with April's games. Microsoft's GWG headliners include Assassin's Creed: Syndicate, a huge 18th Century excursion into Ubisoft's historically-accurate depiction of London during the Industrial Revolution, and The Witness, a neat little puzzle indie game with colorful visuals.
And those are just the Xbox One games. On Xbox 360 we'll get the worthy horror successor Dead Space 2 (RIP Visceral Games!) and...Cars 2. Yeah, we're not so excited about that one but it should keep the kids entertained right?
Xbox LIVE free Games With Gold - April 2018
The Witness ($39.99 ERP): Available April 1 to April 30, 2018 on Xbox One

Assassin's Creed Syndicate ($49.99 ERP): Available April 16 to May 15, 2018 on Xbox One

Cars 2: The Video Game ($19.99 ERP): Available April 1 to April 15, 2018 on Xbox One and Xbox 360

Dead Space 2 ($19.99 ERP): Available April 16 to April 30, 2018 on Xbox One and Xbox 360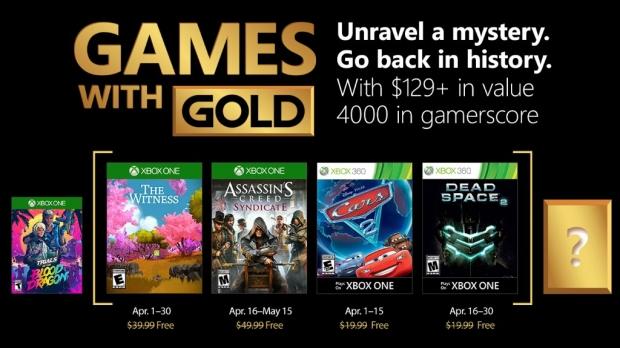 Related Tags