Final Fantasy XV PC specs, release date announced
Want to play Final Fantasy XV on PC? Here's the hardware you'll need.

Published Tue, Jan 16 2018 9:36 AM CST
|
Updated Tue, Nov 3 2020 11:52 AM CST
Square Enix has locked in the PC spec requirements to play Final Fantasy 15, along with a release date...and the hardware reqs aren't too bad.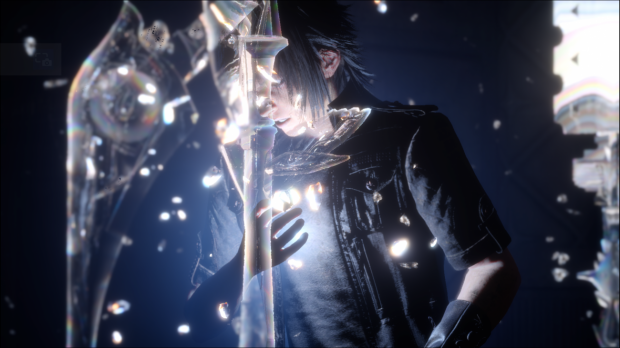 A while back reports surfaced that Final Fantasy 15's Windows Edition on PC had a beefy recommended spec requirement of an NVIDIA GeForce GTX 1080 Ti, but the publisher quickly said this isn't true. Fast forwarded to many weeks later and we see the open-world RPG can actually be played with an AMD R9 280 graphics card, showing just how much Square Enix has scaled the game.
Minimum specs to play FF15 on PC at 720p resolution include an R9 280 or an NVIDIA GeForce GTX 760 or GTX 1050 video card, an Intel Core i5-2500 or an AMD FX-6100 CPU (3.3GHz and above), and 8GB of RAM. Recommended specs to play at 1080p include a GeForce GTX 1060 with 6GB of VRAM or an AMD RX 480, an Intel Core i7-3770 (3.4GHz and above) or an AMD FX-8350 (4GHz and above), and 16GB of RAM.
To play at 4K with HDR you'll of course need a GeForce GTX 1080 Ti alongside an Intel Core i7-7700 or an AMD Ryzen 5 1600X. The install size for the base game is 100GB+ whereas the 4K version takes a minimum of 155GB.
What's also interesting is that Final Fantasy XV Windows Edition will cost $49.99, and will launch on the Windows Store, Steam, and EA's Origin client on March 6, 2018.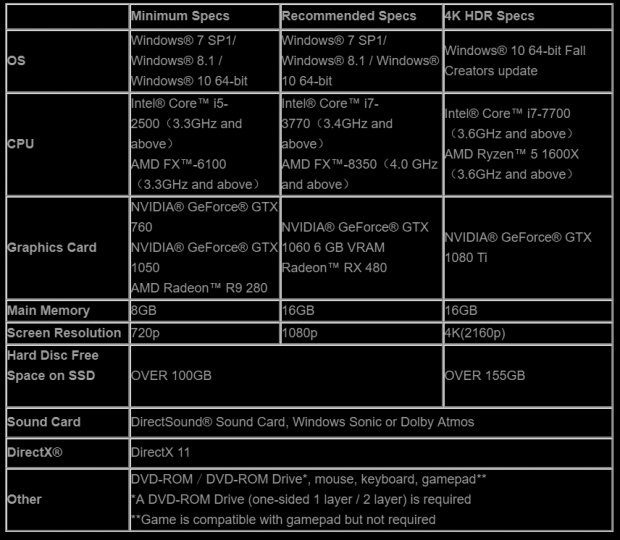 Here's a list of content included in the game:
Expanded Map: Insomnia City Ruins - all-new side quests and enemies such as Cerberus and Omega will be available through the expanded map of the Crown City of Insomnia. Players will also take on the Rulers of Yore.

A fully-controllable Royal Vessel boat, expanding the world of Eos and allowing players to explore the area between Cape Caem and Altissia. Players will also be able to fish aboard the vessel and discover new fishes and dishes.

A new accessory that can activate the new action "Armiger Unleashed" - players will be able to unleash powerful attacks while the Armiger is summoned. After collecting all of the royal arms, players will be able to find an accessory in an unidentified part of the world, enabling access to Armiger Unleashed.

A new first-person camera mode, allowing players to experience the game from Noctis' perspective.

More than a dozen pieces of downloadable content including weapons, Regalia car skins and item sets

All season pass content including EPISODE GLADIOLUS, EPISODE PROMPTO, MULTIPLAYER EXPANSION: COMRADES** and EPISODE IGNIS

Archive - players can review the "Cosmogony" stories scattered throughout the FINAL FANTASY XV world. Additional local myths and legends will also be placed in various new locations, allowing players to obtain more information about the world.

Quest to obtain and Strengthen Regalia Type-D

New Trophies

The FINAL FANTASY XV base game
Related Tags